Marcus Rashford has revealed how Wayne Rooney is willing him to break his Manchester United goalscoring record.
Rooney tops the list of all-time scorers at Old Trafford with 253, but having recently signed a new five-year contract, 25-year-old Rashford looks in a good position to one day overhaul that tally.
The 30 goals he scored last season, which was the most prolific campaign of his career, saw him move to 123 and more look set to follow with Erik ten Hag seemingly unlocking Rashford's full potential.
And Rashford says the man whose record he wants to take is cheering him on.
Asked by Gary Neville on the Overlap, in partnership with Sky Bet, whether he can surpass Rooney's record, he said: "Hopefully I will.
"You never know what's going to happen, but I'm all about scoring goals and trying to make assists. There's definitely a chance that it can happen.
"I've actually spoken to Wazza about it – he wants me to do it.
"He said it would be good for me to do it as I've grown up at the club. Hopefully I get the opportunity to try and make it happen."
After such a prolific season last term, Rashford believes he could hit 40 goals if he can stay fit in the forthcoming season.
"Before last season, I always said let's get to 20 – for a winger a good benchmark," he added. "But this season, I've hit 30 so we have to try and push it now and go above and beyond.
"Towards the end of the season, I was struggling with a few injuries, and I probably wasn't quite at it – that's when the goals started to dry up a little bit.
"If I can keep that side of it under taps, I feel like I can go on and get 35 or 40."
United look well placed to finally start challenging again under Ten Hag's strict regime.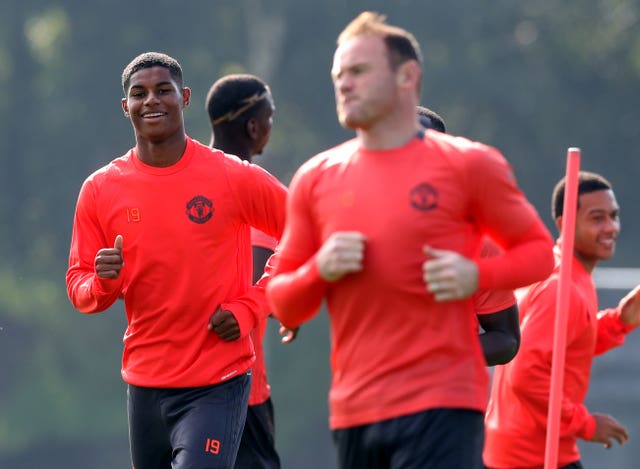 Rashford felt the force of the disciplinarian last season when he was dropped from the starting XI for the game at Wolves after being late for a team meeting.
The forward came off the bench to score the winner in a 1-0 victory, but revealed he was just one minute late.
"I learned from pre-season, a couple of the lads were late and it was important to implement his rules there and then," said Rashford, who also "100 per cent" agreed with Ten Hag's decision.
"I wasn't even that late – I don't think he was being harsh, late is late – but it was probably about 45 seconds, a minute late.
"I already knew what was going to happen because of the rules he implemented in pre-season.
"I am not going to sit and argue about it, because we've got a game to win. There is a time and place to speak to him, but if we win the game nobody really cares."