Arsenal manager Mikel Arteta is confident his side will produce a reaction to the disappointment of dropping two points at Anfield.
Coasting at 2-0 inside half-an-hour, they conceded just before half-time and endured huge pressure after the break before finally cracking to an 87th-minute equaliser from Roberto Firmino.
That saw their lead at the top cut to six points, having played a match more than Manchester City and still having to go to the Etihad in a couple of weeks.
"We've been responding for 31 games now. Every single day is a test," said Arteta.
"The test now is how good are we going to be on Monday, and how well will we prepare and play the way we want to play to beat West Ham (on Sunday)."
Arsenal were indebted to goalkeeper Aaron Ramsdale for a couple of late saves, one a curling effort from Mohamed Salah he tipped around the post and then a close-range scramble to prevent Ibrahima Konate forcing one over the line, to hang onto a point.
Arteta was full of praise for the England international.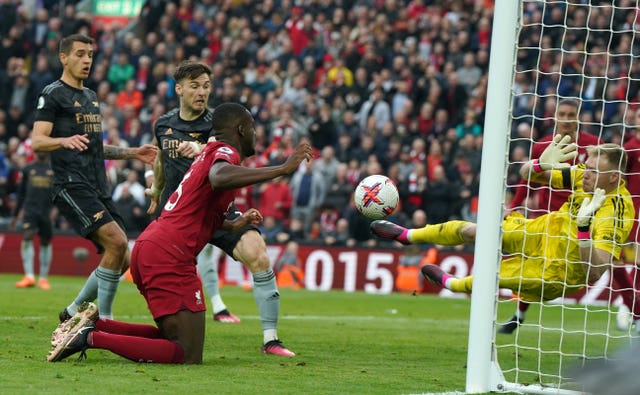 "You need your goalkeeper if you want to win and be in a title race," he said.
"Look at how many times Alisson has done for Liverpool what he has to do.
"You need those magic moments from the keeper, we had some exceptional moments from our front players as well, to win in grounds like that."
Having not capitalised on their comfortable lead to press home their advantage, Arsenal began to retreat, relying on counter-attacks instead of dominating play as they had done, as Liverpool piled on the pressure having pulled a goal back.
Arteta hopes his side can learn from that experience as the title race heads towards its conclusion.
"If we score 3-0 maybe the crowd doesn't get too excited. After that they scored the goal and that changed the momentum and the hope," he said.
"Still though, in the second half we have to play more. That's the lesson, stick to what we've done in the first half, play with our personalities and that's the way we have to continue to play."