Arsenal manager Mikel Arteta admits he has been trying to work out why there are so few away wins in the recent history of the north London derby.
The Premier League leaders head to the Tottenham Hotspur Stadium on Sunday afternoon in search of their first victory at the new home of their neighbours.
It is a similar story for Spurs, who have not left the Emirates Stadium victorious in a league meeting since 2010.
The last six meetings between the rivals have been won by the home side, including Arsenal's 3-1 victory on October 1.
Arteta's side make the short trip to N17 having lost just once in the league this season and the Spaniard revealed he has been looking into ways to keep that record intact at Spurs.
"There is something in it for sure," he said when asked why there are so few away wins in the north London derby.
"The atmosphere has an input and affects the game in a way. I have been through a few of them, trying to understand why that happens, in the last few days.
"It is difficult to get some conclusions but the atmosphere, it's important."
Pushed on why it has not been the case in other derby encounters – such as the Merseyside or Manchester meetings – Arteta seemed to suggest the fact Arsenal and Tottenham are often close together in the table adds more intrigue.
He added: "You have to see where both teams are in that moment."
Spurs were 3-0 winners when they last hosted Arsenal in May, a result which went a long way to seeing Antonio Conte's side pip Arteta's men to the final Champions League spot.
Rob Holding was sent off in the first half as Arsenal lost their cool and were easily beaten, with Arteta bemoaning the performance of the referee.
Now though, he believes his team are ready for such a challenge as his role as manger of the youngest squad in the division continues to develop.
"They are certainly more mature," he said of his players.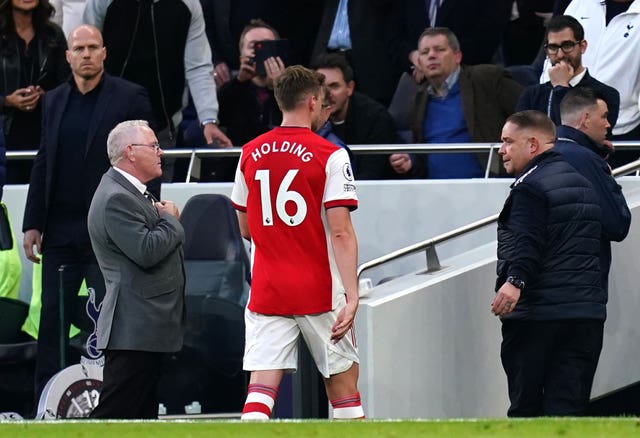 "I think the demands have changed as well. My role and the things they need from me are in my opinion different now.
"That's why we always have to be evolving and to try to be ahead of what is coming, so we can give to the players and the rest of the staff what is going to make everything click, to be more efficient and to win more games.
"At the end it's about the people around you. It's a journey and I have chosen to say yes to this journey with a lot of people, in my opinion, worth it.
"There is some suffering, there are some beautiful moments but there is a lot of learning as well. There's a lot of things to remember in that pathway.
"I feel so grateful and I feel very lucky to be in the position I am. There are tough moments, there are.
"And you have to take the bullets and you have to know they come with your job.
"We win more games, which is the most important thing. That is the thing that changes everything and I think we play better.
"I think we've deserved to win the games we've won – and, probably, that's the most relevant thing."