Mikel Arteta believes the timing of injuries that hit his squad late in the season ultimately cost Arsenal in their bid to hold off Manchester City and win the Premier League.
The team's collapse largely coincided with a back injury sustained by defender William Saliba during their Europa League exit to Sporting Lisbon in March, with stand-in centre-back Rob Holding struggling to match the standard set by his team-mate.
Arsenal were also without strikers Gabriel Jesus and Eddie Nketiah, defenders Oleksandr Zinchenko and Takehiro Tomiyasu and midfielder Mohamed Elneny for large parts of the season as they were eventually chased down by City despite leading the table for 248 days.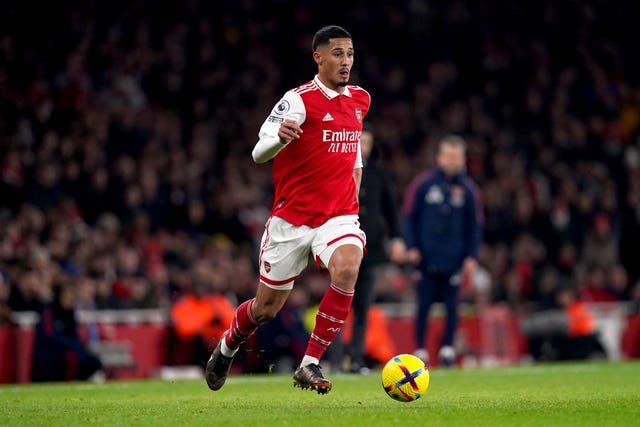 It hands the club the unwanted record of the most number of days spent top of the league without becoming champions.
Collecting just nine points from their last eight games extinguished the challenge from Arteta's side, but the manager pointed to three draws in April – away at Liverpool and West Ham and at home to bottom-side Southampton – as the period where critical damage was done to their title hopes.
The Gunners threw away two-goal leads at Anfield and the London Stadium before gifting Saints a 3-1 lead at the Emirates, from which they could not recover to win.
Arteta felt his team should have beaten all three opponents in spite of Saliba's absence, but noted that the title was usually won by sides that did not suffer the bad luck with injuries that hit Arsenal this season.
"There were a few things (that caused the collapse) because we could have won at least three of the games that we drew without Willy and two of them really comfortably," said Arteta. "But we didn't.
"We had some critical moments where we didn't maximise the opportunity that we had in front of us. You have to arrive at this stage with 24 fit players in the best condition, ready to go.
"It happened last season. In the last stages we lost three or four key players and it's happened this season.
"It's a big lesson, because when you look who wins and how doesn't win, they have the 24 of them with the knife in the teeth, ready to go physically and mentally, all going for it and they can have real momentum. We didn't have that again.
"Timing is everything. Moments define the season in your own way and for opponents. That's dictated by many, many, many factors and you have to acknowledge that. There are certain things you don't control and certain other things not.
"We fail in certain (moments) in our control, but I'm sure there are things we could have done different or better."
Arteta was asked whether he feared for Arsenal's prospects of challenging again next season, given the difficulties that Liverpool have endured this campaign after pushing City to the final day last May.
Jurgen Klopp's team have failed to make the top four despite finishing a point behind the champions last season after a pulsating title race.
As well as the loss of key players and feeling the impact of an ageing team, it had been suggested that there had been a mental hangover at Anfield from last year's pursuit of Pep Guardiola's side.
"Whatever we do now in the last game and what we've done in the last week is just to build into what is going to happen afterwards," said Arteta.
"Painting a very clear picture of where we want to go and who wants to be part of that journey."
The manager also reiterated his commitment to the club after a year in which his personal stock has risen greatly.
He added: "I am very happy here, I'm very happy with my contract. Let's move on and let's have a great season again."