Nathan Jones is confident Southampton can go toe to toe with Newcastle in Tuesday's Carabao Cup semi-final second leg despite the sides being worlds apart in the Premier League table.
Basement dwellers Saints lost the opening leg 1-0 and were reduced to 10 men when Duje Caleta-Car was sent off in the 86th minute at St Mary's last week.
Jones knows Southampton face a formidable task in trying to score against Eddie Howe's third-placed Magpies – who have conceded only 11 goals in 20 top-flight matches – but wondered if the south-coast club's underdog status in the cup contest could work in their favour.
He said: "That's pretty much like any Premier League game, you know. We had chances against Newcastle, we had good chances against Newcastle.
"We actually scored and had it disallowed so technically we have scored against them. It's just about being the best version of ourselves.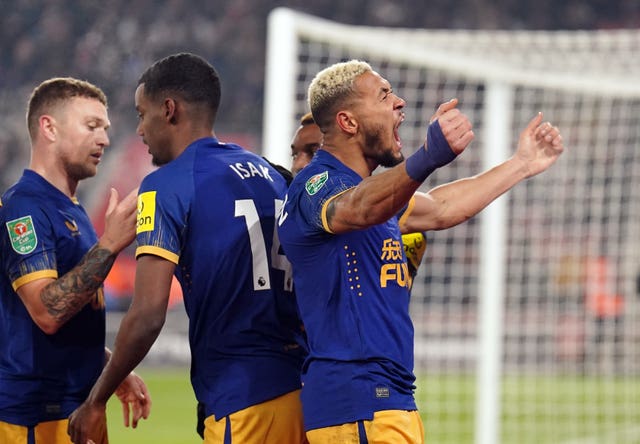 "We'll go there with the game-plan, we'll go there to try and be as positive as we can because we know we have to win the game.
"We can't go there and be cagey or anything and I think that could play into our hands as well because they're a good side, a fantastic side, but it's evenly poised.
"We're not going there three down, it's a real mountain to climb. What we've got to make sure is we start well, be positive and try to get the first goal. If we do that then it's game on."
Both sides had a goal disallowed in the first meeting, first Newcastle's Joelinton – who later struck the eventual winner – before Adam Armstrong's bundled attempt at a late equaliser was ruled out for handball following VAR intervention.
Jones was pleased to walk away from that contest having conceded just one to the Magpies, knowing Southampton will need to be more assertive at St James' Park if they hope to book a trip to next month's Wembley final.
He said: "That's the importance of two legs. With the greatest respect the fans the other day want us to go for it with 10 men against a top Newcastle side.
"But if we open up and concede late on, then we're going there two goals down. We had a real battle and that's what managers do – I sacrifice my ego and literally take the hit from everyone or do we actually go gung-ho and try and get a goal back 10 vs 11 and then potentially be out of the tie.
"That was a really big decision the other day and what we had to do is make sure we go there only one goal down and then go for the second leg. It's 90 minutes to win it, rather than a 10-minute spell of having to contain and making sure the tie doesn't get away from you.
"It's evenly poised, a great occasion with 55,000 on a Tuesday night in a semi-final. It's a test of everyone and, if you really like being tested and you want to do something in football, then these are the tests that you relish."
That test – Saints' third cup clash in seven days, having also advanced to the FA Cup fifth round with a 2-1 victory over Blackpool on Saturday – also falls on the evening of deadline day for the January transfer window.
Jones emphasised Southampton were "working tirelessly to improve the squad, improving the potency" as the 11pm Tuesday cut-off approaches.
His opposite number in Saturday's FA Cup contest was less certain about any more moves.
Mick McCarthy, who took charge of Blackpool for the first time in that clash, added: "I don't know. I don't think so. We're not champing at the bit. We have a certain criteria and budget."