Pep Guardiola proclaimed Erling Haaland as undroppable after the prolific Norwegian plundered yet another hat-trick to fire Manchester City to a 3-0 win over Wolves.
Haaland netted his fourth treble of the campaign – taking his tally for the season to a remarkable 31 in 26 games in all competitions – as the champions responded strongly to their manager's midweek complaints.
Guardiola delivered a passionate rant about his side's recent performances after City needed to fight back from 2-0 down to beat Tottenham on Thursday.
Haaland's treble was also a strong riposte to claims that City had become a worse team, in terms of style at least, since the striker's arrival in the summer.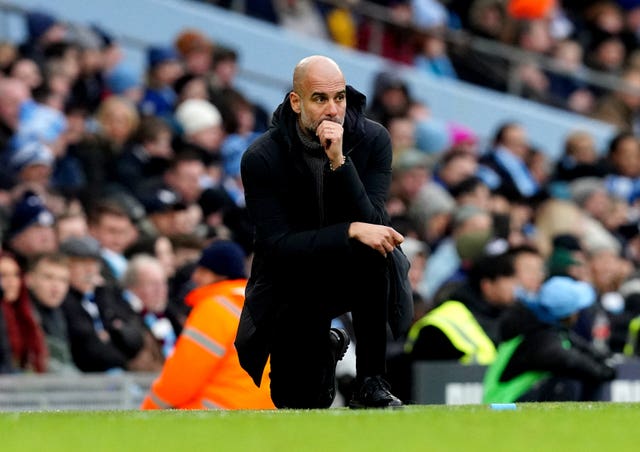 Guardiola said: "When he scores I don't know how many hat-tricks and goals, (people say) he is the solution in our team and when he does not score a goal he is a problem in our team. This is a grey vision of this kind of things.
"We know his quality, we know each other. He is not a player to be dropped. We cannot play a false nine with him, we have to adapt with him and I think we are doing quite well."
Guardiola had bemoaned City's recent loss of sparkle after the Spurs game, demanding that his players sharpen up and stop playing like a "happy flowers team".
After a scrappy start, City clicked back into gear on Sunday after Haaland headed them ahead in the 40th minute. He added a second from the penalty spot early in the second half and tucked away his third soon after.
"Today we improved but it was just today, we will see what happens in the next games," said Guardiola.
"People will see the goals from Erling, the assists from Kevin (De Bruyne) and the actions from Riyad (Mahrez) but there are things still to improve."
Phil Foden, who has been out of form recently, was not involved in the squad but Guardiola confirmed this was due to injury.
He said: "It was an action at Old Trafford with (Aaron) Wan-Bissaka. He has a problem with his feet and he is struggling."
Unusually, City chief executive Ferran Soriano made the journey from the training complex to the stadium for the game with the team.
But Guardiola said: "I didn't see (him). I don't know, I was the last one to come on to the coach and the first one to leave."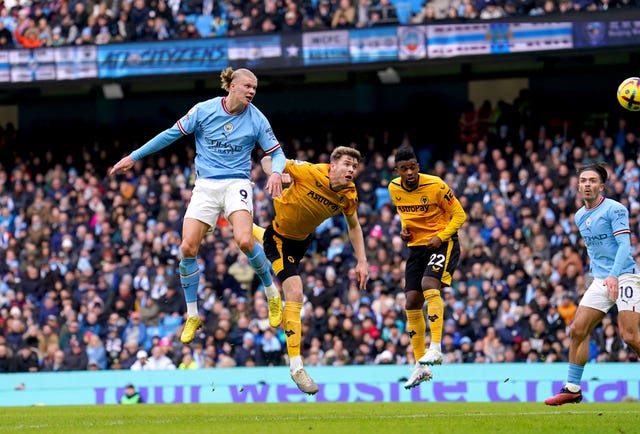 Wolves boss Julen Lopetegui took a pragmatic view of his side's defeat – only the second they have suffered in the Premier League since he took charge – but accepted he may have got his tactics wrong.
He said: "Today is not a good day to talk about whether I am happy or not. We deserved to lose.
"But I prefer to lose trying to damage the opponent. We have to improve this situation but maybe it was my fault with the line-up or the plan.
"We have improved different things. We were in the last position when I arrived here but it is going to be a very long race for all the teams.
"Last week we weren't in heaven, this week we are not in hell. We have to be balanced."