Pep Guardiola insisted there was nothing decisive about Manchester City's 4-1 win over Premier League rivals Arsenal but acknowledged something big had shifted with the title now in his side's hands.
City made light of a fixture long billed as a high-pressure title decider, with the dynamic play of Kevin De Bruyne and Erling Haaland ripping through the Arsenal defence time and again.
City scored four – Haaland netting the last after twice setting up De Bruyne, who in turn got the assist on a John Stones header – but could have exceeded that in the first half alone on a dominant night. Rob Holding's late goal was slim consolation for the Gunners.
Arsenal still ended the night top of the table, but their two-point advantage looks particularly vulnerable with a City side who have won seven in a row in the league boasting two games in hand.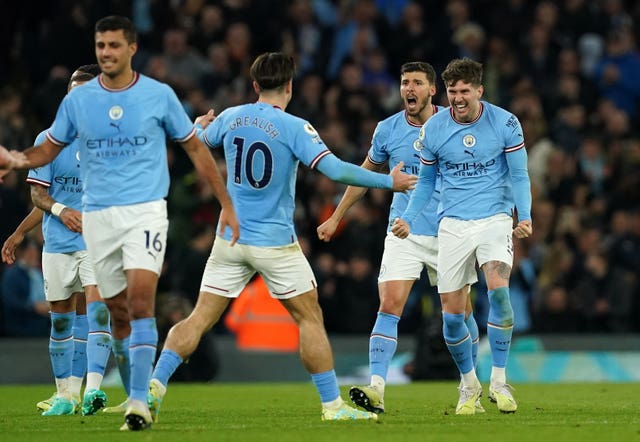 "It was an important game, not decisive but important," Guardiola said.
"We played very good. I know the opponent we played. They're still top, I know it sounds naive what I'm saying but we are still behind. We are still there."
With the exception of a few days in February after City won 3-1 at the Emirates, Arsenal have topped the Premier League table since the third week of the season.
City have been playing catch up all along with Guardiola calling Arsenal the favourites for the title, but this result convinced the Catalan he and his side are finally in the stronger position.
"Absolutely (I prefer) my position because now it's in our hands," he said.
"I would love that these two games are six points but you have to win them, but I prefer it because it depends on us.
"Until today, I prefer the position in the Premier League of Arsenal because if Arsenal had beaten us it's in their hands. But now it is in our hands."
For Arsenal this was a fourth straight game without a win, with the Gunners appearing to wilt just as City turn up the heat.
Mikel Arteta admitted his side were second best on the night and might now end up second best in the league, but refused to admit defeat in a title race his side still lead, at least for now.
"The analysis is clear," Arteta said. "The better team won the game. They were probably at their best, especially in the first half, and we were nowhere near our level. When that happens the gap becomes too big.
"The first 30 minutes all the basic things you have to do against an exceptional team in terms of competing, winning duels, understanding what the game requires, we didn't do it and we were punished.
"The stats said Arsenal were going to finish sixth or seventh and we are where we are with five games to go. Those players deserve a lot of credit after nine-and-a-half months being here. And there are still five games to play.
"In 22 years in this country I've seen a lot of things and there are not two equal games in this league."
Arsenal have five games remaining and Arteta admitted they would need to win them all – something that would put them on 90 points – to take the challenge to City.
"We first have to lift the players up tonight because they suffer and it was difficult to swallow," he said.
"Do everything we have done so well in the next match to earn the right to win it. That's where we have to start."