The Professional Game Match Officials Limited has refuted Jurgen Klopp's claims that referee Paul Tierney acted improperly during Liverpool's 4-3 win against Tottenham on Sunday.
Klopp was shown a yellow card by Tierney for his wild celebrations in front of fourth official John Brooks after Diogo Jota's stoppage-time winner at Anfield, just 99 seconds after Richarlison had hauled Tottenham level in a seven-goal thriller.
The Liverpool manager pulled his hamstring in the process and in his post-match interview heavily criticised Tierney, accusing the match official of speaking to him in a manner which "was not OK".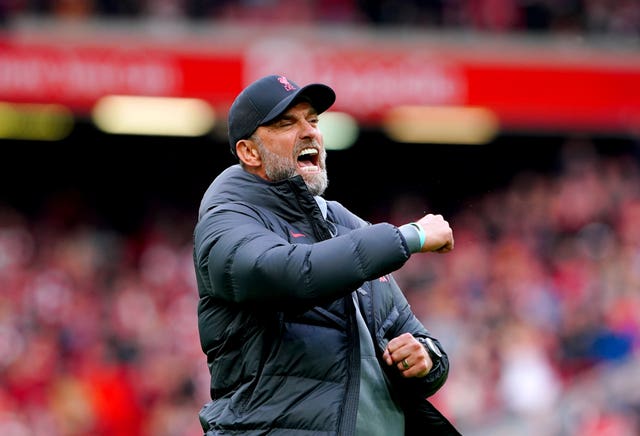 But PGMOL said in a statement: "PGMOL is aware of the comments made by Jurgen Klopp after his side's fixture with Tottenham Hotspur.
"Match officials in the Premier League are recorded in all games via a communications system and having fully reviewed the audio of referee Paul Tierney from today's fixture, we can confirm he acted in a professional manner throughout including when issuing the caution to the Liverpool manager so, therefore, we strongly refute any suggestion that Tierney's actions were improper."
Klopp faces heavy censure by the Football Association for his comments and touchline behaviour.
The German escaped a touchline ban in October and was instead fined £30,000 by an independent commission following his sending-off for confronting referee Anthony Taylor during Liverpool's match against Manchester City at Anfield.
After Liverpool had snatched victory against Tottenham, Klopp told Sky Sports: "We have our history with Tierney, I really don't know what he has against us, he has said there is no problem but that cannot be true.
"How he looks at me, I don't understand it. My celebration was unnecessary, which is fair but what he said to me when he gave me the yellow card is not OK."
When asked what Tierney had said, Klopp added: "I will not say anything about it. The refs don't say what is said so I don't say what is said."
Klopp reignited his long-running feud with Tierney and referred back to last season's 2-2 draw against Tottenham in London.
Klopp said: "Paul Tierney didn't give Harry Kane a red card but Robbo (Andy Robertson) got a red card. It was not the first time, there are so many things."
On his celebration in front of the fourth official, Klopp added: "Of course, we are emotional in these moments. It's difficult. It is not OK, we shouldn't do that. Yes, we are role models but we are human beings first and foremost.
"I didn't say a bad word to the fourth official – not at all – but I pulled my hamstring probably in that moment so, fair enough, I'm already punished.
"A fair punishment for behaving not the right away. I have pain for a few days, Mr Tierney not."