The Prince of Wales has praised the "brave and inspirational" Dele Alli for speaking out about his mental health struggles after he revealed he was sexually abused as a child.
In an emotional interview, Alli told how he was "molested" as a six-year-old and was dealing drugs aged eight, while he also spoke about alcohol problems, sleeping pill addiction and addressing his mental health issues by spending six weeks in a rehab clinic.
The 27-year-old said he had contemplated hanging up his boots three years ago before leaving Tottenham for Everton in 2022, prompting an outpouring of support with Prince William, the NSPCC and England captain Harry Kane among those to applaud him.
In a personal tweet, William wrote: "Brave and inspirational @dele_official. Discussing mental health is not a sign of weakness. Let's keep the conversation going.
"We're all with you and we wish you the very best. W."
The NSPCC praised Alli's courage and voiced the hope that his bravery would encourage others in a similar position to seek help.
A spokesperson said: "Dele Alli has shown great courage in revealing the abuse he suffered in his childhood. Speaking out on sexual abuse whenever it happened can be very daunting with survivors sometimes feeling guilt, shame or confusion.
"The impact of child sexual abuse can be devastating, and can continue into adulthood. It's crucial that the safety and protection of all children remains a clear priority for all those in positions of authority.
"We hope that Dele Alli is receiving the support he needs and that his bravery in speaking out will encourage others who are in a similar position to do the same and will reassure them that they are not alone and there are people here to support them."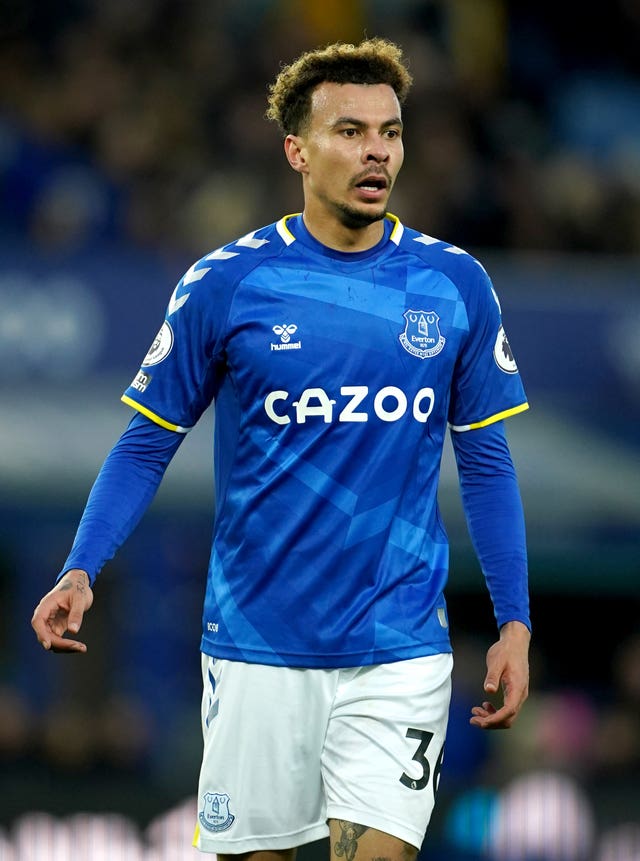 Alli made just 13 appearances for Everton before joining Besiktas on loan last season, but is now back at Goodison Park.
Alli spoke out in an interview with Gary Neville on a special edition of The Overlap podcast in partnership with Sky Bet, which was released on Thursday morning.
"The club has been supporting Dele in both his return to fitness and overcoming the personal challenges highlighted in his interview with The Overlap," an Everton spokesperson said.
"Everyone at Everton respects and applauds Dele's bravery to speak about the difficulties he has faced, as well as seek the help required.
"The physical and mental welfare of all our players is of paramount importance.
"The club takes very seriously its responsibility in protecting the confidentiality of players and staff.
"Dele will not be conducting any further interviews in relation to his rehabilitation, and we ask that his privacy is respected while he continues his recuperation from injury and receives the full care and support needed for his physical and mental well-being."
England skipper Kane, a former team-mate of Alli's at Spurs, retweeted a clip from the interview, posting: "Proud of @dele_official for speaking out and sharing his experience to try and help others."
Gary Lineker tweeted: "This is very powerful and brave. Good luck to you @dele_official."
The Professional Footballers' Association also issued a statement on Twitter in response to Alli's interview.
"It's incredibly brave of Dele to tell his story with such honesty in this important interview with @GNev2 (Neville)," the PFA said.
"Hearing Dele speak with such openness will make a difference, and his desire to use his own experiences to act as an inspiration to others – inside and outside of football – is something he should be extremely proud of."
Anti-discrimination organisation Kick It Out added: "What a powerful and incredibly brave interview. To open up and share his story in the hope of helping others is humbling and inspiring.
"It also shows that sometimes you just don't know what's going on in someone's life. #BeKind"