Tottenham acting head coach Cristian Stellini has backed Brighton manager Roberto De Zerbi to eventually take over at a top-six club in England.
The Italians go head-to-head on Saturday with Stellini struggling to lift Spurs in their bid to qualify for the Champions League while De Zerbi's Seagulls are riding on a high after an excellent season.
Brighton are sixth in the Premier League and four points behind fifth-placed Tottenham, but with two games in hand and the ex-Sassuolo boss continues to gain plaudits for his work this term.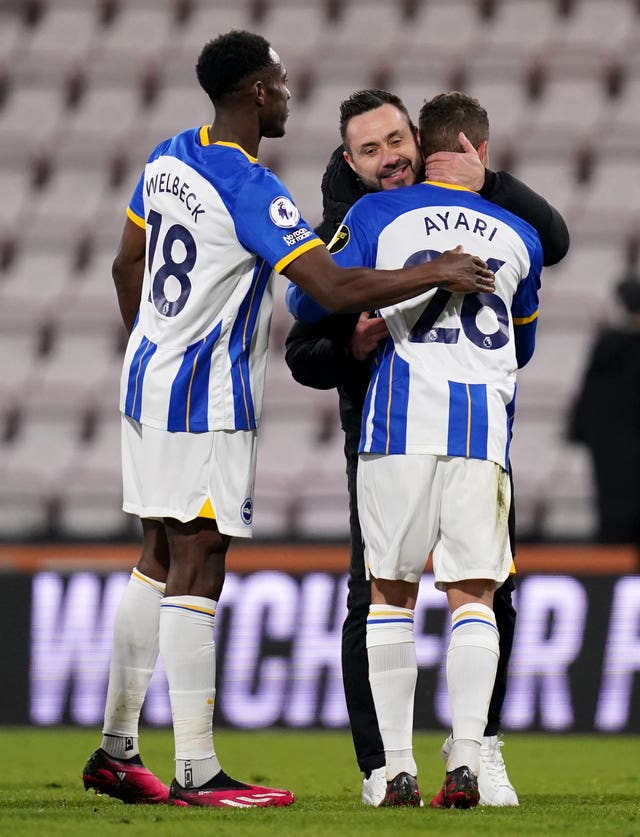 It has earned admirers at Spurs and this weekend could be billed as a perfect chance for the 43-year-old to audition for the role in N17.
Asked if he expected De Zerbi to go to a top-six club, Stellini stated: "I hope for him, but I don't know.
"He improved a lot. He has a great personality like a manager and arrives here in a new country and quickly he put his sign on his team.
"That is not easy for everyone and De Zerbi shows also in England, in the Premier League, he is a great manager.
"De Zerbi is more a manager consistent in the way he wants to hurt the opponent. He is more focused with the ball and what they can do with the ball and being aggressive when they lose the ball."
Stellini recalled some of his battles with the "aggressive" De Zerbi as a player during Thursday's press conference and remembered an encounter in the 2008-09 season when they were at Bari and Avellino, respectively, in Serie B.
It is a trait De Zerbi has taken into management with his Brighton side extremely aggressive both with and without possession, which is in contrast to Tottenham's habit of sitting back in 2023.
Spurs under Antonio Conte were at their best when able to produce slick transitions and counter-attacks but that has been few and far between this season.
It contributed towards the malaise that set in amongst the fanbase but Stellini's first official game in charge at Everton showed little sign much would change with the 3-4-3 system deployed and Tottenham largely pragmatic.
"You have to accept that I was an assistant manager for a long time with Antonio so we have to accept that my mind came from this history," Stellini admitted.
"I don't think that as a manager, if you change something different, you have a different result (at Everton). It is in the mind of the player and in the way you want to play a match that changes this.
"It is not because you play with six strikers that you can attack better.
"It is like when you play with one player more, you have to understand the game you have to play. This is much more important.
"This is about experience, this is about a moment you have to live and all the players have to think the same thing in the right moment, in the same moment. This is very important."
This time last year Conte stated it would take a "miracle" for Spurs to make the top four but his former number two refused to make the same statement.
He joked his friend was "jealous" of the sleep he is getting despite the pressure situation the one-time Alessandria head coach has found himself in, but did provide a damning assessment of the progress Tottenham have made during the past 12 months.
"There are different pressures but I can say that working for Antonio, you live under pressure," Stellini said.
"I have this type of habit to live under pressure, also I like sometimes to do it.
"We have players with great experience and if they live the reality and realise what the reality is at the moment, they can react in the right way.
"This is what I expect from our team and I am confident on this aspect.
"We were in a position (last season) where we had to recover points and now we are in the same position.
"Nothing changed in the past and what has to change is our mind. We arrive with a wave to ride and now we have to create that wave to ride."