Sean Dyche is nothing if not realistic and within minutes of achieving his sole aim of saving Everton from relegation he delivered his verdict on the state of the club – and it will have made for difficult listening for his bosses.
The 51-year-old has built a career on plain speaking and pragmatism but until another season in the top flight – the club's 70th in succession – was secured he had to keep his own counsel, at least in public, on the state of affairs he inherited from predecessor Frank Lampard.
But in the immediate aftermath of the 1-0 win over Bournemouth which safeguarded the Toffees' future, Dyche laid bare the extent of the problems he feels have riddled the club and outlined what needs to be done to change.
Whether owner Farhad Moshiri, whose £600 million-plus spend on players in just over seven years has almost hastened rather than failed to prevent back-to-back relegation scraps, will listen remains to be seen.
But Dyche knows throwing money at the problem is not the answer, especially as it has now effectively run out with the club making losses of over £430m over four years and facing sanctions next season for breaching profit and sustainability rules.
"The fans have been amazing, they want the club to be in the top end of the market but the club currently is not at the top end of the market," he said.
"We need solid thinking going forwards. We are not ready to be up there yet, that is quite evident.
"It is going to be building and progress and I need the Evertonians to understand that. I'll be very surprised if they (the club's board) say 'Here's another war chest, sign who you like'.
"It's not going to happen so we have to be wise, recruit wisely and recruit players who, if possible, understand this club.
"They have to be able to handle what it is to be part of Everton. I'm learning that all the time and we have to be able to get that heartbeat and also talent as well.
"I've tried to be realistic since I've been here but the problem with realism is not many people want it because it sounds boring.
"But at the end of the day it is time for that. There was a time when this club went from 'Let's just do everything' but there is a time for realism, that's what I've learned."
Dyche is already starting to sound like his old self during his decade-long stay at Burnley before his sacking last season in a relegation scrap from which they failed to escape.
He worked miracles on a small budget at Turf Moor, making the club a Premier League regular against the odds, and believes he can turn things around at Goodison Park.
But he needs the people in charge – Moshiri, chairman Bill Kenwright and chief executive Denise Barrett-Baxendale – to accept his version of what the future should look like and abandon lofty but unrealistic ambitions fuelled by influential agents, the owner's inexperience and a lack of joined-up thinking on a club ethos and recruitment strategy.
This is a club which are on their eighth permanent manager and third director of football since the billionaire took over in 2016.
Dyche, who admitted managing up was as much a part of his job as leading those below him, said on him being the driving force: "Someone has got to. That's usually the manager.
"Now at least I can bring some of it to the fore and I can say 'OK, I've given you the first step and it's a big step' but I need a bit of reality from fans that they don't think next season we win the first 10 on the trot.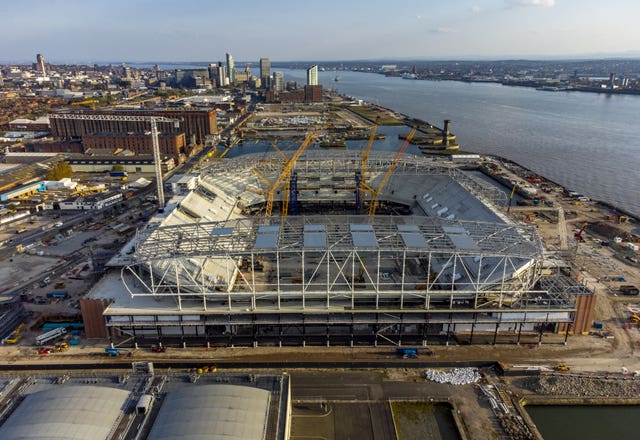 "That's highly unlikely from a club which has been edging downwards.
"There's that beautiful stadium down the road (at Bramley-Moore Dock) which someone has to pay for.
"There has to be a reality (about money) because we are trying to build a stadium, they are doing things in the community, and you have to get a team to win."
On transfers, he added: "Fans want development but really they want first-team footballers who can play and win and that usually implies money.
"But we know about the financial stuff, that has to be realigned, so not yet, I don't know but I will know at some point.
"Evertonians remember when they had an 'earthy' team, a team that gave everything – they are good things even in modern times. Let's applaud it.
"And of course we want to play good, attacking, pleasing football that can win games. Not easy."