Sheikh Jassim and Sir Jim Ratcliffe have both submitted what are expected to be final bids in their attempt to buy Manchester United from the Glazer family, the PA news agency understands.
The deadline for those wanting to make a third offer for the Premier League club was 10pm on Friday night, with the two leading parties swiftly submitting their proposals.
It is understood that the offer from Sheikh Jassim, the chairman of Qatar Islamic Bank and the son of a former Qatari prime minister, includes a pledge to invest significant sums in capital and infrastructure, and would remove all debt from the club.
INEOS owner Ratcliffe, Manchester born, has also made an updated offer for the club.
Sheikh Jassim was the first prospective owner to publicly confirm a bid during the first round back in February.
Back in November, United announced that the board was exploring strategic alternatives to enhance the club's growth, with a full sale one option being considered.
The Glazer family, the club's owners, are said to value United at £6billion and the Raine Group was brought in to oversee the process having facilitated the sale of Chelsea.
The first quarter of the year was initially recognised as a key time in a process that has rumbled into the latter stages of what has been a promising season on the field.
February's soft deadline was followed by a second deadline last month for those that progressed, with Raine then asking interested parties for their third and final bid on April 28.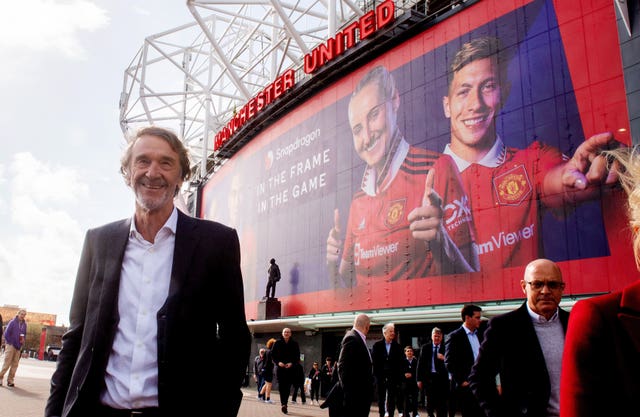 Bloomberg reported on the eve of the deadline that bidders have been asked to clarify the source of their money, planned financial models and debts that would be secured against the club.
In addition to Sheikh Jassim and Ratcliffe, Carlyle, Elliott Management, Ares Management and Sixth Street have reportedly made minority investment proposals.
It has also been reported this week that one option on the table could see Ratcliffe take a controlling stake of more than 50 per cent, with Avram and Joel Glazer retaining a combined 20 per cent.
In the wake of that story, the 1958 – a United supporters group that came to prominence last year – posted on Twitter: "If you get in bed with Glazer. You are a Glazer. The fans will have their say this Sunday. FULL SALE ONLY."
United fans have let their fury known at the Glazers ever since their leveraged takeover in 2005 and the 1958 have led renewed protests against them for the past year.
Banners against the Glazers were seen at Wembley in last weekend's FA Cup semi-final penalty shoot-out win against Brighton and a protest is planned at Sunday's Premier League home match against Aston Villa.
Leaving from central Manchester at 11.45am, the march will continue onto Old Trafford and involve an 18-minute boycott of the match.
"We boycott the game for 18 minutes," the 1958 said. "One minute for each year the Glazers have driven our club into the ground."