Sir Alex Ferguson and Arsene Wenger have become the first managers to be inducted into the Premier League Hall of Fame.
Ferguson is the most successful manager in the competition's history, having guided Manchester United to 13 titles before retirement in 2013.
Wenger won the league on three occasions with Arsenal between 1996 and 2018, including going unbeaten in the 2003-04 season.
The pair were long-term rivals on the touchline during their managerial careers.
"It's an honour when you receive recognition like this," Ferguson said in a press release.
"However, it's not just about me as a person. It's about the job at Manchester United and the bond we had over many years, so I'm also proud for the club, the staff and my players."
The Hall of Fame recognises and celebrates individuals who have an exceptional record of success and have made a significant contribution to the Premier League since its inception in 1992.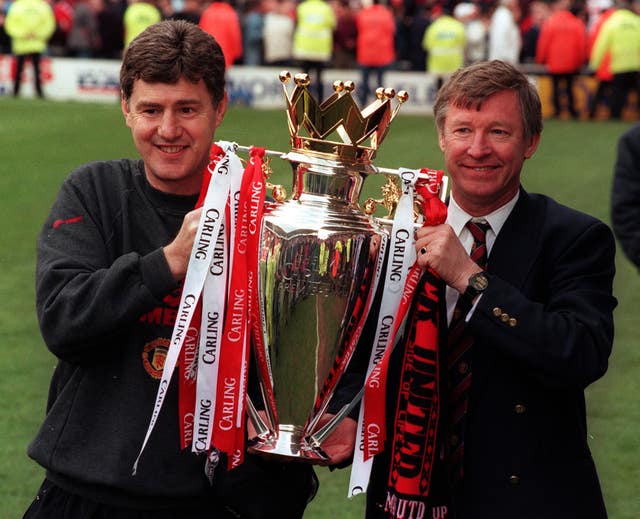 Ferguson's all-time Premier League record stands at 528 wins from 810 matches, with 1,752 points accumulated.
The 81-year-old Scotsman was named manager of the season 11 times and collected the manager of the month award on 27 occasions.
Frenchman Wenger managed a record 828 Premier League matches, including 476 wins and 199 draws.
The 73-year-old was voted manager of the season in 1998, 2002 and 2004.
"To share this with Sir Alex is a great honour for me," he said.
"It's like two boxers, you fight like mad and go the distance together. At the end of the day, you have respect and it will be a great opportunity to meet with him, share a good bottle of wine and memories of our old battles.
"I'd like to be known as someone who loved Arsenal, who respected the values of the club and left it in a position where it can grow and become even bigger."
Premier League chief executive Richard Masters said: "Sir Alex Ferguson and Arsene Wenger both made a remarkable contribution to the history of football in this country.
"They brought unparalleled levels of success to Manchester United and Arsenal respectively, raising standards and thrilling fans with a rivalry which resulted in an astonishing 16 title wins between them."