Antonio Conte will again step away from first-team duties at Tottenham following a routine post-operation check in Italy.
The Spurs boss returned to the touchline for last weekend's 4-1 Premier League defeat at Leicester and was again present for their 1-0 loss at AC Milan in the Champions League on Tuesday but has since remained in his home country.
Two weeks ago Conte had surgery to remove his gallbladder and subsequently missed the 1-0 win over Manchester City on February 5.
"Following a routine post-operation check in Italy yesterday (Wednesday), Antonio Conte will remain at his family home to further and fully recover from his recent gallbladder surgery," a club statement read.
"Health is the most important consideration and everyone at the club wishes him well. Cristian Stellini will assume first-team responsibility."
Assistant Stellini had referenced the need for Conte to "take it easy" upon his return and the former Chelsea manager conceded he was not 100 per cent ahead of the midweek fixture in Milan.
Conte had been reserved by his own high-octane standards at Leicester during a disappointing defeat but was more active at San Siro and regularly bellowed out instructions to his team.
The 53-year-old even insisted he would soon return to full fitness following the narrow Champions League last-16 first leg loss.
Speaking on Tuesday night, Conte said: "Frankly speaking in the previous match (against Leicester) I was completely out, I have just had surgery and after two days my doctor told me I couldn't go, I couldn't make (the) effort.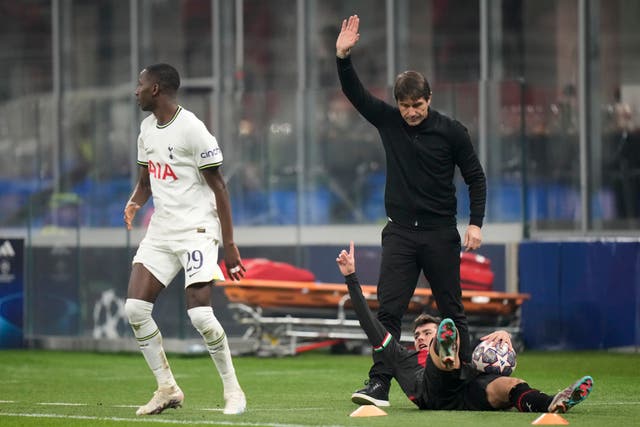 "So in the previous match I was distant from the pitch. Cristian was there replacing me and was able to share my ideas with the team, he really helped me out a lot.
"I was wearing a medical device in that period, but I was still able to interact in a fair enough way with the team, I was not 100 per cent (in) my physical shape but in the next game I will be fit and try to give my contribution."
Stellini, who has won two matches in charge of fifth-placed Spurs this season, will lead the team for Sunday's London derby with West Ham.