Tottenham's players have issued a public apology for the 6-1 defeat at Newcastle and offered to reimburse fans with the cost of their match tickets.
Spurs were humiliated on Sunday afternoon, falling 5-0 behind in a nightmare opening 21 minutes on Tyneside.
Acting head coach Cristian Stellini was sacked on Monday after less than a month in charge, with Tottenham chairman Daniel Levy labelling the lacklustre defeat as "wholly unacceptable".
Former midfielder Ryan Mason will take charge of the first team for a second spell, having overseen the squad following the departure of Jose Mourinho in April 2021 until the end of that campaign.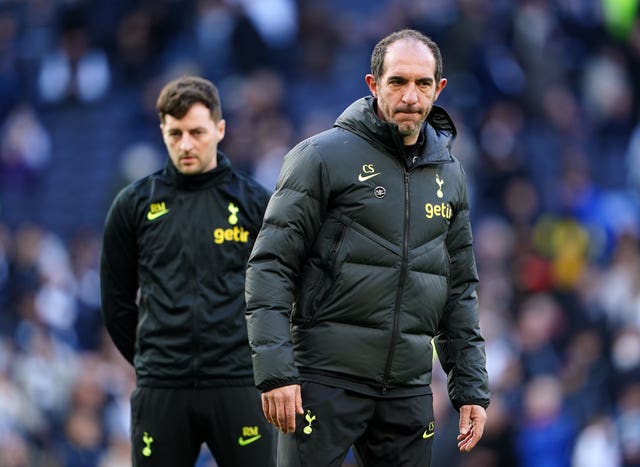 Spurs currently sit fifth in the Premier League, six points behind Manchester United, who have two games in hand, ahead of Thursday night's meeting between the two sides in north London.
Captain Hugo Lloris had already apologised to fans for the "embarrassing" defeat at St James' Park in his post-match interview, acknowledging the team showed a "lack of pride".
On Tuesday afternoon, the players issued a collective statement accepting the performance was unacceptable and offering the gesture to help cover the cost of the tickets to the game.
"As a squad, we understand your frustration, your anger. It wasn't good enough," the Spurs players said in a post on the club's official Twitter feed.
"We know words aren't enough in situations like this, but believe us, a defeat like this hurts.
"We appreciate your support, home and away, and with this in mind we would like to reimburse fans with the cost of their match tickets from St James' Park.
"We know this does not change what happened on Sunday and we will give everything to put things right against Manchester United on Thursday evening when, again, your support will mean everything to us.
"Together – and only together – can we move things forward."
Following Sunday's defeat, the Tottenham Hotspur Supporters' Trust called for decisive action to "give us all some hope and something to get behind at the end of a truly awful season".
After the announcement dismissing Stellini, who was also part of Antonio Conte's backroom staff, the THST had suggested fans "still deserve a refund" for Sunday's shambolic display.
"All supporters will now want to get behind Ryan in his attempt to rescue our season," the THST added.
Spurs later revealed more details on the club's new 'Fan Advisory Board', which will aim to represent supporter engagement and representation both at home and abroad.
There will be a new forum for elected members from different sections of Tottenham's diverse fanbase to ensure supporters are "kept informed and their views considered during club decision-making".
Tottenham's executive director Donna-Maria Cullen, the nominated board official for fan engagement, said on the club website: "It (FAB) represents a strong and structured forum for fan engagement and more extensive communication with supporters."
The TST welcomed the development as a "major step forward for fan engagement at the club" which will created a binding obligation to consult with supporters' representatives on key issues, something which the organisation has long campaigned for.
"Fans are a crucial part of the club's overall success and it's vital they have a voice at the top table," the THST said in a statement.
"We are now consulting our members on the FAB proposals with a recommendation that we take up the two allocated seats."