A bronze statue of former Arsenal manager Arsene Wenger lifting the Premier League trophy has been unveiled outside the Emirates Stadium.
Wenger won three top-flight titles and the FA Cup on seven occasions while in charge of the Gunners between October 1996 and May 2018.
The Frenchman managed 1,235 matches during his time in north London and helped the club go unbeaten in the league during their 2004 title success.
Arsenal also spent 20 successive seasons in the Champions League under Wenger, including reaching the 2006 final, where they were beaten 2-1 by Barcelona.
The 3.5-metre statue of the 73-year-old, created by award-winning sculptor Jim Guy, was fixed into position outside the North Bank Stand on Friday morning.
Arsenal executive vice-chairman Tim Lewis told the Gunners' website: "We're delighted to recognise and celebrate Arsene Wenger's outstanding leadership and career at Arsenal Football Club.
"Arsene's contribution to, and achievements with, the club mark him out as the club's greatest manager.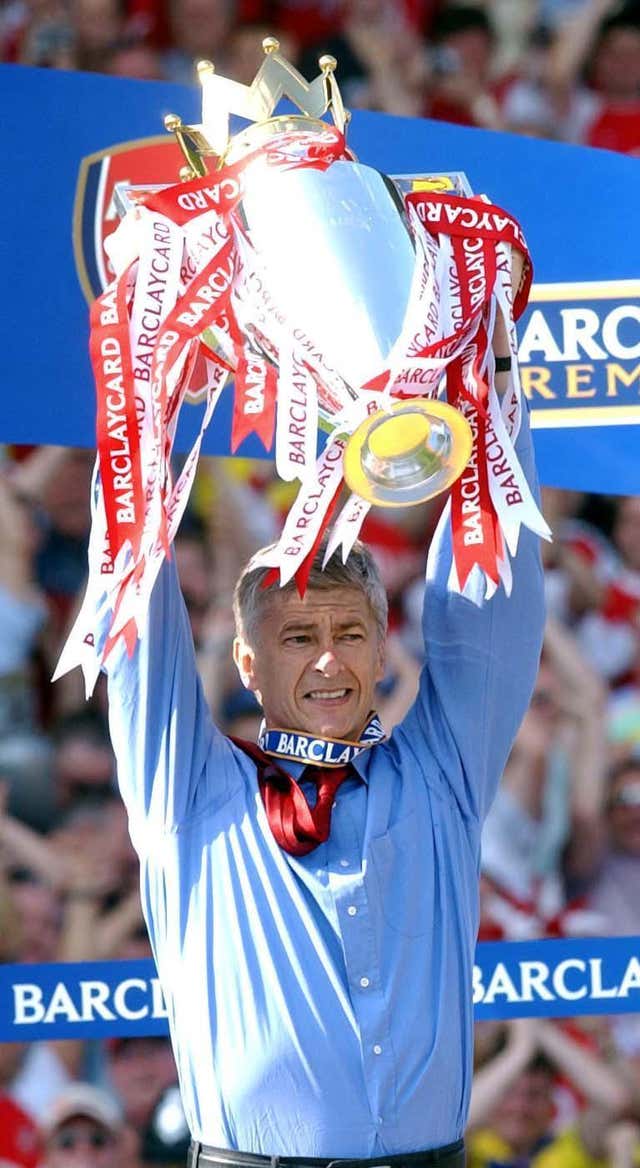 "He treated the club and its supporters to many trophies and fantastic memories and brought a revolution in the running of the club, an unbeaten season and the move to Emirates Stadium.
"It is fitting, therefore, that as a mark of the club's enduring respect and gratitude a magnificent statue of Arsene now stands outside Emirates Stadium."
Wenger will be the club's guest of honour for the Emirates Cup match against Monaco on Wednesday and is due to visit the statue in the coming days.
His statue joins five others – featuring Tony Adams, Dennis Bergkamp, Herbert Chapman, Ken Friar and Thierry Henry – on the podium around the Emirates Stadium.
Arsenal boss Mikel Arteta, who was signed by Wenger in 2011, said: "It's such a great tribute that the club has done something special for Arsene that he fully deserves and merits.
"With a statue now at the stadium, Arsene can have that recognition and be here at our club forever.
"He chose me to be one of his players and selected me to be the captain of the club and that's something I will never forget."