The average managerial tenure is at its shortest in the Premier League era after Brendan Rodgers and Graham Potter took this season's total departures to 13.
Rodgers left relegation-threatened Leicester early on Sunday afternoon before Potter's unhappy spell at Chelsea was brought to an end just after 8pm.
The remaining managers in the top flight have an average tenure of less than two years and, here, the PA news agency looks at how the figures compare to this point in previous seasons.
Managerial merry-go-round
At just one year and 241 days, the average tenure provides a clear indication of the precarious nature of top-flight managerial roles.
Comparing to the equivalent date in previous seasons, the average has not dipped below two years since 2013-14 – a season which also saw 13 bosses leave their posts, albeit with three of those coming at the end of the season.
The current average is 90 days lower than the one year and 331 days on that occasion, with 1994-95 – when 11 managers left their posts – and 1996-97 the only other seasons with a figure of two years or less.
The average, though, has not topped three years since the 2012-13 season when Sir Alex Ferguson and Arsene Wenger, the Premier League's longest-serving bosses and the only two to manage over 800 games, were still in post at Manchester United and Arsenal respectively.
The nearest it has come in the meantime was the 2017-18 season, when it stood at two years and 261 days on April 3. Curiously that season holds the record for managerial departures with 15, though five of those came at the conclusion of the season, including Wenger's resignation.
The 2005-06 and 2006-07 seasons are the only two in the Premier League era when the average at this stage topped four years.
Klopp and Guardiola clear of the pack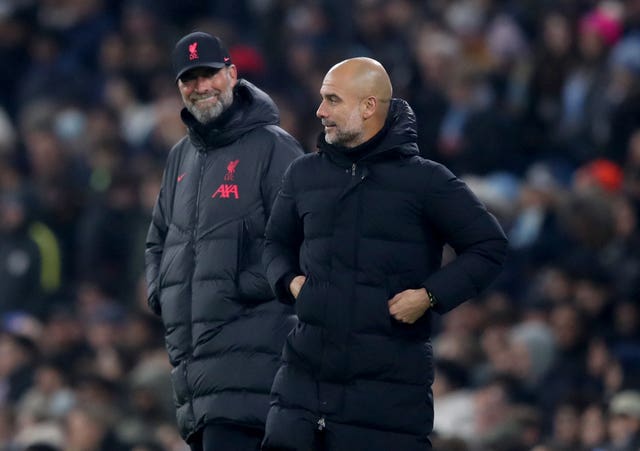 Jurgen Klopp and Pep Guardiola are by far the longest-serving current Premier League managers, having contested several memorable recent title battles.
Klopp is coming up to seven-and-a-half years in charge at Liverpool, with Guardiola soon to wrap up his seventh season at Manchester City.
Thomas Frank has been in charge of Brentford for almost four-and-a-half years, while Mikel Arteta and David Moyes, appointed a week apart in December 2019, are the only other current managers to even crack the two-year threshold.
Twelve managers have spent less than a year in their current roles, while six have been in charge for less than two months.
Those include the newly-appointed caretakers at Leicester and Chelsea, along with Tottenham's Cristian Stellini and Southampton's Ruben Selles, former assistants promoted on contracts until the end of the season. Roy Hodgson returned to Crystal Palace two weeks ago on a similar basis, while Javi Gracia took over Leeds after Jesse Marsch's sacking in February.
Guardiola signed a new contract earlier in the season to keep him at City until 2025, but, with intermittent speculation over Klopp's Anfield future after a difficult season, should he leave in the summer the average would come crashing down well below a year and 200 days.