Brentford boss Thomas Frank believes the sentence handed to the man convicted of racially abusing Ivan Toney was not strong enough.
Twenty-four-year-old Antonio Neill was given a four-month sentence suspended for two years as well as a three-year ban from all English football stadiums, under new powers bestowed by the Police, Crime, Sentencing and Courts Act which came into force last year.
It is the first sentence to be passed under the act, with the stadium ban including grounds at all Premier League, Championship, Leagues One and Two and National League clubs, as well as England home internationals, qualifiers and tournament matches.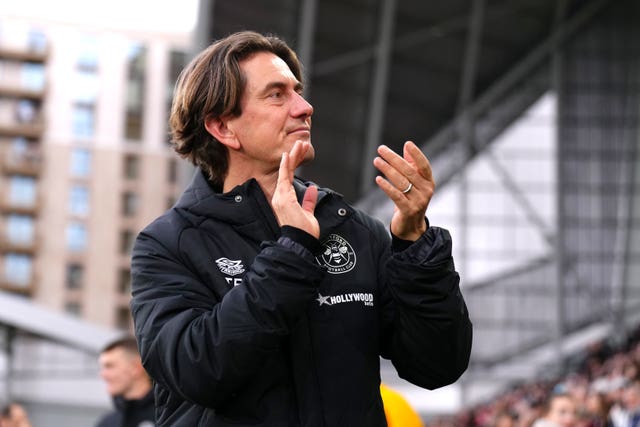 Toney shared racially abusive messages that had been sent to him on Instagram by an account controlled by Neill in October, the morning after his goals had helped Brentford to a 2-0 win over Brighton.
Neill, from North Shields, pleaded guilty to sending abusive messages at Newcastle Magistrates Court in January. He returned for sentencing on Monday.
Frank said he was pleased that authorities had sent a clear message over their willingness to tolerate racism in football, particularly in the light of allegations that Southampton defender Kyle Walker-Peters was racially abused during Sunday's game at Old Trafford, but questioned whether the sentence fit the severity of the offence.
"It's a very strong message," said Frank. "Personally I'm very pleased that racial abuse is getting into court.
"I think the sentence is not hard enough, it could be harder. It's a suspended sentence. But I think it's a good step in the right direction to hopefully show the world that there's no room for racial abuse.
"Hopefully it's also a reminder to the social media companies that they can do even more. Also the situation with Walker-Peters, what he experienced also, it's very sad. It's a constant development area for society. We need to be very aware of that."
Brentford travel to St Mary's on Wednesday looking to bounce back from their first league defeat in 13 games last time out against Everton.
The Bees' previous loss came five months ago against Aston Villa in October, a run which has seen Frank's side mount a credible challenge for a European place.
Victory on the south coast could see Brentford leapfrog fellow European hopefuls Brighton and Fulham into seventh, a placing that may be enough to secure passage to next season's Conference League, depending on who wins this season's FA Cup.
"Of course we are dreaming (of Europe)," said Frank. "If that ever should come to the football club, I think many people would be very proud that a club like Brentford could achieve it.
"We love challenges and it would be a challenge if that happens. But to be in contention for that, we need to focus on now, then tomorrow night. We need to do everything we can to get three points.
"It's just painful (to lose to Everton). It's crazy how quick you forget the pain, then the instant you feel it, it's not a nice feeling. But hey, it's football and unless you're one of the top clubs, you lose sometimes.
"But it's unbelievable that we went 12 games unbeaten. Every point or win was all deserved. When I look back at Everton, I think we could, should have got more out of the game.
"We were absolutely on top second half, I was pleased with our response we gave second half. We had more than good enough opportunities to score the equaliser, then you never know what's going to happen in a game like that.
"We of course want to win every game, no matter playing home or away, we try to go for the win. I see it as any other game in the Premier League, very difficult. (Southampton) have become more solid. Ruben (Selles) has done a good job in the short time he's been in charge."