UEFA bears "primary responsibility for failures" which almost led to May's chaotic Champions League final becoming a "mass fatality catastrophe", according to an independent report into the scenes which has been leaked ahead of publication.
Serious congestion problems outside the Stade de France in Paris saw thousands of Liverpool fans penned in against perimeter fences and stuck in a motorway underpass ahead of the game against Real Madrid.
Those same supporters, who had already been targeted by local youths trying to steal tickets, were then tear-gassed by police trying to alleviate further problems after a decision was made to close turnstile gates but that only compounded the issue.
UEFA commissioned a team led by Portuguese Dr Tiago Brandao Rodrigues to look into events and, after publication was delayed from the end of November, the report is understood to be set to be published on Tuesday.
However, reported claims from a leaked version make damning reading for European football's governing body and the French authorities – while completely exonerating the behaviour of Liverpool fans for whom UEFA's blame for arriving late and delaying kick-off was "manifestly inaccurate" and French officials claimed had thousands of forged tickets.
"The panel has concluded that UEFA, as event owner, bears primary responsibility for failures which almost led to disaster," claim reports.
"The dangerous conditions on the concourse outside the turnstiles were compounded by the police deploying teargas at disorderly groups of locals, as well as using pepper spray on supporters trying to gain entrance with valid tickets.
"It is remarkable that no one lost their life. All the stakeholders interviewed by the panel have agreed that this situation was a near-miss: a term used when an event almost turns into a mass fatality catastrophe."
Liverpool have criticised the leaking of the report, on the evening of their 242nd Merseyside derby at home to Everton, as they believe the thousands of supporters affected by incidents on the night deserved the right to view the findings in an official capacity.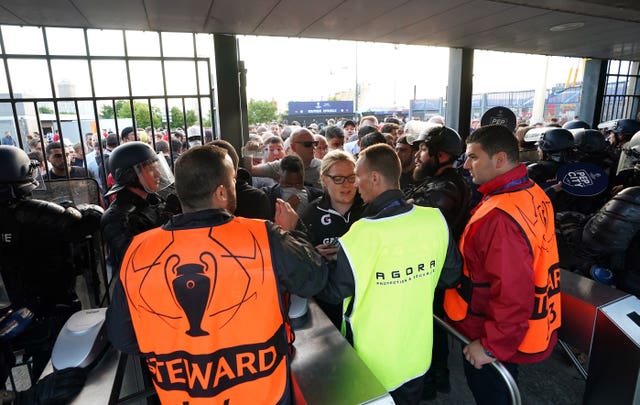 Claims in the report suggest UEFA marginalised its own safety and security unit ahead of the event, which was switched to Paris late on after Russia invaded Ukraine and was stripped of hosting the final in St Petersburg.
The French authorities have been criticised for a lack of foresight over what was required on the night.
"The panel is left with a sense of real concern at the lack of insight into what occurred on 28th May and the failure to recognise the role of the authorities," it is claimed the report states.
"The panel is also troubled by a number of stark differences as to the facts of what happened, and a general default position of blaming the Liverpool supporters, without any proper evidential basis.
"Assertions that late, ticketless supporters were either the primary cause or contributed to the dangerous events have a particular resonance with Hillsborough, where similar allegations were made … and persisted for decades before being comprehensively disproved.
"Senior officials at the top of UEFA allowed this to happen, even though the shortcomings of its model were widely known at senior management level, as acknowledged to the panel."
Thousands of Liverpool fans, a number of whom were survivors or relatives of the 1989 Hillsborough disaster in which 97 people were killed, were adversely affected by events on the night.
"It's hugely disappointing that a report of such significance, such importance to football supporters' lives and future safety, should be leaked and published in this way," said a club statement.
"It's been over eight months of work by the independent panel and it is only right and proper to publish the contents of the report to our supporters appropriately.
"We will await to receive a copy of the report and digest it thoroughly before making any further comment."