Defender Virgil van Dijk is excited by how Liverpool's new-look forward line has already provided a glimpse of the future.
Cody Gakpo, the club's £37million January signing, and Darwin Nunez, who arrived in the summer, both scored twice in the 7-0 trouncing of Manchester United before Mohamed Salah could complete his record-breaking double.
It may only be one game but three Liverpool players scoring at least two apiece against United for the first time since 1908 was not the most significant feature of a remarkable evening at Anfield.
With Roberto Firmino, the other goalscorer, announcing his decision to leave in the summer when his contract ends, only Salah remains from the famed frontline which terrorised defences across Europe for several seasons.
However, the rebuild is already well under way with Nunez, who could become a club record £85m signing if all his add-ons are paid to Benfica, starting to make the left-sided role previously owned by the now-departed Sadio Mane his own with 14 goals this term.
Gakpo, who had been a United target only for Liverpool to swoop in, has had less time to adapt but has now scored in three of his last four starts and looks set to assume Firmino's central position.
"Very clinical. I think a lot of those goals were world class in my opinion," Van Dijk said.
"The first one, I think the whole build-up towards it was outstanding. Obviously (Gakpo) cutting in to his right foot, a quality finish.
"Obviously it's been a difficult time to come in any club, I think, in the winter for any player but he's settling in very well. It's a very difficult position to play.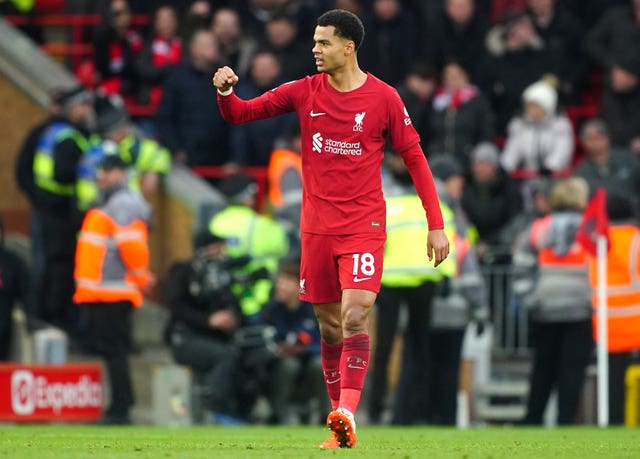 "Obviously he learns from one of the best, I think, each and every day with Bobby Firmino. He has to keep going, keep the confidence, keep the belief and stick together.
"I think he will be fine for this club and I mentioned it already before but he's a fantastic player. Darwin is causing chaos all the time with his speed, his passion and also with the quality."
The pair almost, but not quite, stole Salah's moment in the spotlight as the Egypt international scored his 128th and 129th Premier League goals to go past Robbie Fowler to become the club's record scorer in the competition.
"Mo showed why he is so important for this football club definitely," said Van Dijk.
"(He has been) very influential with everything that's been going on in a positive way over the last couple of years and hopefully he can keep that going.
"For him to be the all-time Premier League top scorer for Liverpool is something no one should take for granted.
"He definitely shouldn't and I won't. He should also not just brush it off because it's something special."
Liverpool are building momentum at a pivotal time in the season with fellow contenders for fourth place Tottenham, the current occupants, and Newcastle suffering inconsistent results in recent weeks.
By contrast Jurgen Klopp's side have won four and drawn one of the last five and by the time Spurs kick off at home to Nottingham Forest on Saturday, Liverpool could already be above them if they beat struggling Bournemouth in the lunchtime kick-off.
Confidence is the highest it has been all season with their two wins in March as many as they have managed in any single month this campaign.
But Van Dijk said while thrashing their arch rivals was enjoyable no-one would be dwelling on the result.
"We should not take these results for granted but there are many more games to play in order to get what we want: in this case that's Champions League football and that's what we focus on," added the Netherlands captain.
"We shouldn't just brush it off like it's any other day. We won 7-0 in a difficult season that we've had. You should be able to stand still and enjoy that a little bit.
"But the focus will turn and it's another week towards Bournemouth. I think our focus has always been one game at a time and that doesn't change."