Fulham striker Aleksandar Mitrovic and boss Marco Silva have held clear-the-air talks with referee Chris Kavanagh and PGMOL official Jon Moss after their Old Trafford shame.
Mitrovic was shown a red card in their FA Cup defeat at Manchester United after shoving Kavanagh in the chest after the official awarded a penalty and sent off Willian for handball.
Silva was also red-carded and both have been charged by the Football Association, who said Mitrovic's automatic three-match ban is "clearly insufficient" amid calls for a lengthier suspension.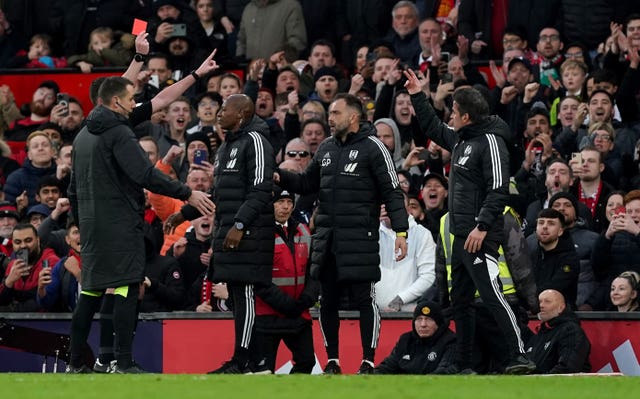 Mitrovic and Silva have since apologised for their actions, meeting Kavanagh and Moss on Tuesday to do so, and Silva insists the Serbian's behaviour was out of character.
Silva said: "That was the moment we had a chance to speak to them and then we made our statement.
"The statement is clear. We made a mistake. Mitro made a mistake and of course we regret the situation and we have to apologise.
"I'm the first one to criticise myself when I do something I'm not happy with and my players are the same.
"I know there was a lot of noise after the match but I cannot comment on what other people have said on that situation.
"We know our responsibilities – managers at this level, players at this level, we know we should be an example for everyone. In some moments we should control our emotions.
"Sometimes Mitro has this aura around him and people have this feeling about him.
"Mitro is a big guy, but he's a big boy as well. He's a boy. He's a very good guy and everyone respects him.
"Even the way he plays he is always respectful to everyone. He has a very good relationship with referees.
"A good example is when we had a meeting with Chris Kavanagh, myself, Mitro and Jon Moss.
"You can see everyone respects Mitro and understands Mitro, officials as well. Jon Moss praised us for some of the things we have been doing this season, on the pitch, on the touchline, it's something we have been improving.
"Even after that incident (it) showed the respect everyone has in this business and talked about Mitro as a professional and a person."
Silva will be on the touchline against Bournemouth on Saturday as he requested a personal hearing with the FA, delaying any potential ban.