Cristian Stellini insists he has total trust in Tottenham defender Davinson Sanchez and would have no hesitation in playing him in Sunday's key fixture at Newcastle.
Sanchez endured an afternoon to forget in last Saturday's 3-2 defeat at home to Bournemouth and was substituted only 23 minutes after being introduced.
The centre-back was booed by his own supporters following an error that resulted in a goal and Stellini's decision to replace the Colombian was met with a mixture of cheers and boos.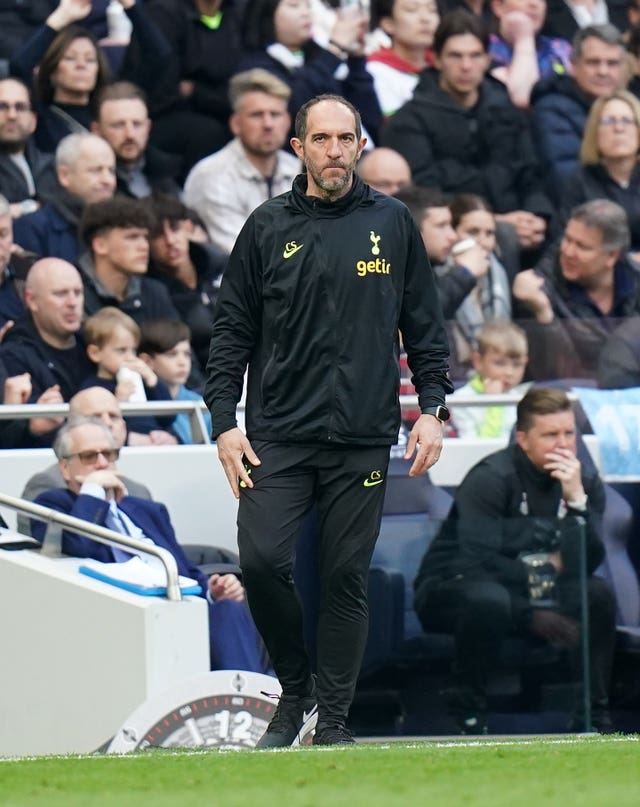 It was a horrible moment for a player who has spent six years at Spurs and captain Hugo Lloris was critical of the fans' reaction immediately after the loss.
"Yes, he trained well this week and he will be involved in the match," Stellini said of Sanchez.
"Whether it will be from the start, I don't know, but I spoke with him clearly and that goes for all the players who train well.
"This is not a player we don't know. He has played many, many games for Tottenham and we believe in him, we trust him."
Stellini revealed he had spoken to Sanchez in detail this week about his own decision to withdraw the former Ajax defender from the firing line so quickly after his part in Bournemouth's second goal.
He admitted it was rare to see fans boo their own player but urged the supporters to show appreciation for the 26-year-old the next time he does play for Spurs.
"Yeah, I hope this happens because players, before being players, are men," Stellini added.
"They need the opportunity to react, the opportunity to do better, the opportunity to do their best. The fans are an important part of this.
"I spoke with Patron (Sanchez). We had a good conversation and of course it is tough for a player to come in and then come out of the pitch. It is the type of thing that also happened to me when I played.
"It is not the best moment you can live, but the type of thing that has to give you a reaction, a good reaction. I asked him to have a good reaction, to train well and to do his best.
"He is a good guy, he understood the moment during the last game, so he accepted the situation.
"It's very rare (the booing), but I think if it happens it's important you react to have the fans back with you. I want to help him to have this situation, We have to work together to reach this."
Defeat at home to Bournemouth seriously dented Spurs' faint hopes of a top-four finish and they face a pivotal seven days.
After visiting Newcastle, Tottenham host Manchester United on Thursday before a trip to Liverpool rounds off a crunch period where scrutiny on Stellini will be high.
But Antonio Conte's former number two said: "How many people would like to be here? I think it is a dream, so I am enjoying it of course and I'm trying to do my best.
"I think it's an experience that makes me stronger, with more experience.
"I think I could improve a lot, but I don't know what happens in the future. I'm not focused on that. I am focused on improving the team, improve myself and make the best decisions."