Ryan Mason said he and his coaching staff have "done a great job" during his second spell as Tottenham's interim manager.
Tottenham closed their Premier League season with a resounding 4-1 win at relegated Leeds on Sunday, but have failed to qualify for European football next season for the first time since 2008-09.
Mason said: "When I go on my summer holidays I would hope and expect that everyone inside of our training ground knows who I am, who my team is and what we stand for.
"The hope and expectation is that you guys and everyone else sees that too. I know we've done a great job. I really do."
Tottenham fought back from 2-0 down to draw 2-2 with Manchester United at home in Mason's first game back in charge and have since won two and lost three of their last five matches.
The 31-year-old former Spurs midfielder, whose previous stint in temporary charge came after Jose Mourinho was sacked in 2021, replaced previous interim boss Christian Stellini with six games remaining.
Tottenham had sacked Antonio Conte at the end of March and while they were then fourth in the table, they had exited all the cup competitions and weary fans had grown disillusioned over their team's playing style.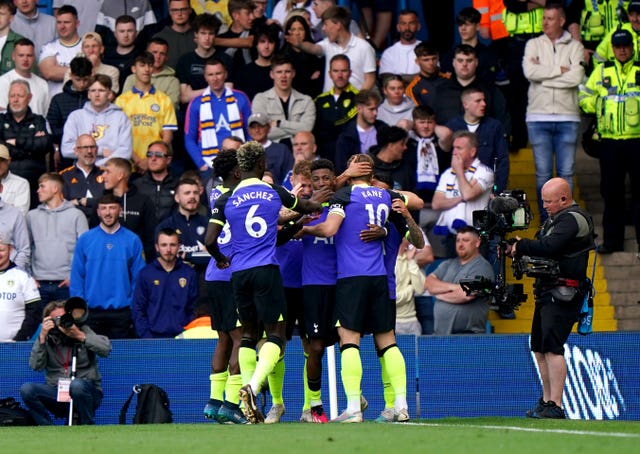 "The circumstances were very difficult," said Mason, who urged the club to get get their next managerial appointment right.
"I think anyone in the world coming into this situation for six games coming off the back of what had happened and the position we were in was going to find it tough.
"Also if you add into that being on an interim basis, where there's uncertainty it makes it even tougher.
"But we've stuck to what we believe in, we've transitioned a little bit I believe in a short space of time and the players have responded, they've given us everything and ultimately that's all I can ask."
Throughout his six games in charge, Mason has called for the club to rediscover their identity and feels that is the biggest factor as they continue their search for a new manager.
"The most important thing for any club in world football is to have an identity, know who you are and who you want to be and stick to that," he said.
Mason also paid tribute to Harry Kane, who scored twice at Elland Road – in what could be his last game for Tottenham – to take his league tally to 30 for the season.
"I think he probably doesn't get the appreciation he should," Mason added.
"The goals yes, outstanding, a 30-goal season in the Premier League is incredible but also his overall performances are just outstanding.
"I also think as well to go through what happened in the World Cup, from a mental point of view, to come back and do what he's done for the past four or five months, I think it speaks volumes for the player and the person."