Antonio Conte has suggested some of his Tottenham players are prone to collapsing under pressure.
Spurs resume their Champions League campaign with a last-16 first-leg tie at AC Milan on Tuesday against the backdrop of an inconsistent run in the Premier League.
Conte, who says he is still not 100 per cent following gallbladder surgery, watched his side beat champions Manchester City and then follow it up by being thrashed 4-1 at Leicester at the weekend, when a spot in the Premier League top four was theirs for the taking.
Spurs have notoriously failed in big moments over the years and Conte has hinted some of his players cannot live with the pressure.
"If you want to win or achieve some targets and have a good position in the Champions League or in England in the Premier League you have to be stable," the Italian, who had his gallbladder removed a fortnight ago, said.
"And this stability is lacking this year. I always talk about it with my players. It is very difficult to keep concentration, it is very difficult to stay focused all of the time.
"It is not an easy task being so focused. We are working on that, playing under pressure all of the time is good for some players and bad for others.
"Sometimes players feel motivated, other times they feel so much under pressure that they can't perform.
"Maybe for a period they have a good performance and then they collapse all of a sudden if they feel too much pressure.
"We are working on this, we want to make our players more resilient."
He added: "I think that the pressure is different between Italy and England. In Italy you speak about football from Monday and you finish on Sunday. You speak only football and then you have a lot of TV that speaks football and putting a lot of pressure.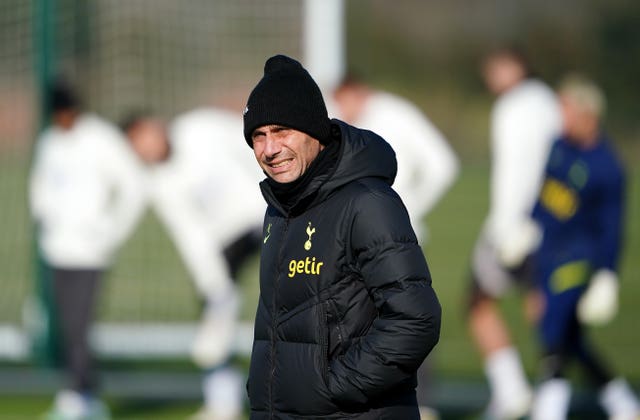 "You are born in this way and you grow in this way, with this pressure, and you are used to living with this type of situation.
"In England I think that there is an atmosphere that brings to enjoy football without a lot of pressure, because football is a sport and in Italy sometimes football is not only a sport, it is a war between the teams and the fans."
Spurs have had a tough run of injuries this season with Dejan Kulusevski, Richarlison and Lucas Moura among those who have suffered and in the last few days skipper Hugo Lloris has been ruled out for up to two months, Yves Bissouma has had ankle surgery and Rodrigo Bentancur faces a long stint out with an ACL injury.
And Conte says this has played a part in his side's turbulent season.
"There are also external factors like injuries for very important players for us," he said. "And those injuries influence the team, influence the growing evolution of the league.
"You can be prepared for everything, you can be a tactical man, good strategies, good line-ups, you can have high-quality players but then if those high-quality players get injured then you need to change things.
"Every manager wishes to have the best players available. Luck has abandoned us."
Bentancur's and Bissouma's injuries and Pierre-Emile Hojbjerg's suspension mean Conte is bereft of midfielders at the San Siro.
He said he has not had enough time to consider the option of playing Eric Dier in a more advanced role and effectively confirmed Oliver Skipp and Pape Matar Sarr would start.
"We have the solution in our house, with the two young players, Skippy and Pape Sarr," he added. "You know we are talking about two young players, their first game in the Champions League, they are really young – 20 and 22 years old.
"Especially for this reason we have to be good to help them to overcome the emotion, and then we trust them."
Conte was back in the dugout for the hammering at the King Power Stadium and says it is important to be back with the team in difficult situations.
"For sure, it was really difficult to stay far from the team," he added. "Because you have a sense of responsibility that you want to stay every moment with your players, to breathe the environment in every situation.
"But this problem happened and now I'm feeling much better than before.
"I'm not still 100 per cent but I think I'm recovering well, it's very important for me to stay with the team, work with them and try to stay together in a difficult moment for us."
Milan boss Stefano Pioli thinks his side are equal to Spurs.
He said: "We believe we're equal to Tottenham. Winning the Champions League is a dream but it's useless to think about it now.
"A week ago, they beat Manchester City, but we don't come in better or worse than them. It will be a big game that we will have to play well."