Erling Haaland has brushed off concerns about his form ahead of the Champions League final on Saturday.
Haaland has scored 52 goals in an astonishing first season for Manchester City but grabbed only one in his last seven appearances.
Coming just prior to one of the biggest games in City's history, as they take on Inter Milan in Istanbul for Europe's top prize, it is a run that has raised eyebrows.
Yet Haaland insists there is nothing to worry about and he is not feeling the effects of a long and arduous season.
"You can think of it as one goal in seven games or 52 goals in 52 games and eight assists," said the Norway striker. "You can think of it in both ways. I'm not stressed. I feel really good."
Haaland has had no trouble dismissing critics this season.
Prior to his arrival at City last summer there were claims he would need time to settle, suggestions that only increased after he spurned a gilt-edged chance on debut against Liverpool in the Community Shield.
Even after he bounced back in sensational style by scoring 27 goals before the end of December, it was reckoned his presence could be hampering City, as their results at that stage were inconsistent.
"I think often it's a good thing when people start criticising you," he said. "I scored every single game and then people started criticising me. That's what happened basically.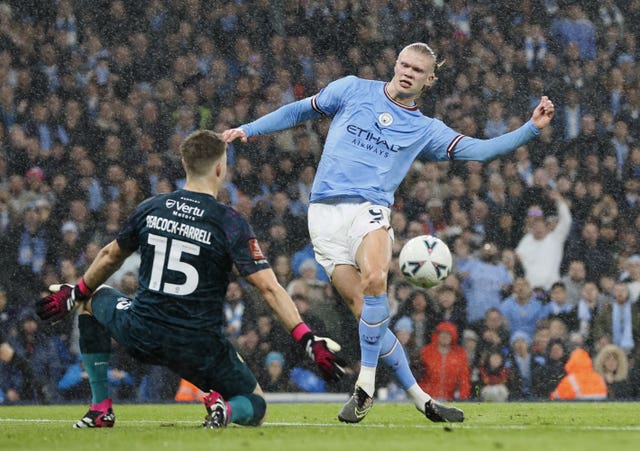 "When people criticise you it's normally a good thing. It's just about trying to smile a bit and enjoy life.
"In the Community Shield I missed a couple of big chances. It can happen, it will happen again.
"What can you do? Nothing. We have to focus on the next thing, the next game and that's what I did. I scored two goals in the next game, so it was still not a bad start."
Haaland feels he has exceeded his own expectations in his first season at City but still feels he could have done better.
He said: "No, I didn't expect to score this many goals but, again, I could have scored more.
"I've been missing a lot of chances, so I could have scored more. That's the truth."