A new-look European Super League could have major benefits for the Old Firm, according to the chief executive of the project.
Plans are being developed for a new, open-access continental competition by A22, a company which also promoted the hugely controversial version of the Super League which launched briefly before collapsing in April 2021.
A22 and its chief executive Bernd Reichart have spoken to nearly 50 European clubs and stakeholders to develop 10 principles which underpin its plans for a new competition.
He did not confirm whether Celtic or Rangers were among those clubs due to confidentiality agreements, but believes "big clubs in small leagues" like them would benefit from the A22 project.
He told the PA news agency: "Analysing the situation of the Scottish top clubs, the situation they're in is quite comparable to other European leagues where domestic revenues are not sufficient to grant competitiveness on the bigger European stage, although they have every condition to be one of the big European clubs – football tradition, modern stadia, passionate fan base, historic track record and trophies.
"What can change for big clubs in small leagues was one of the essential assessments we did over the course of the last six months."
The original Super League was heavily criticised as it proposed that 15 clubs would be permanent members of a 20-team competition, with no threat of failing to qualify for those permanent members.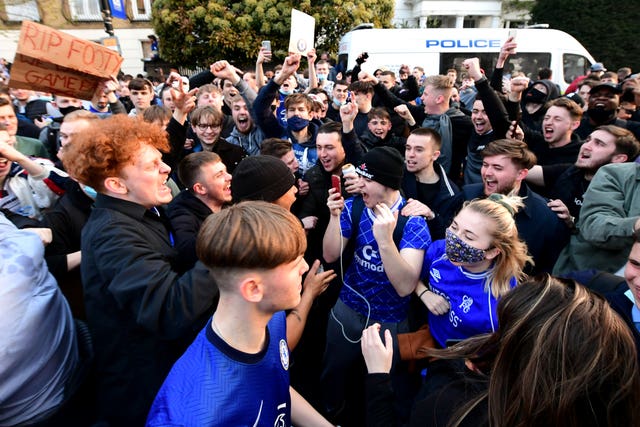 A22 is now proposing an open, 60 to 80-team multi-divisional format, guaranteeing competing teams at least 14 European matches per season.
Asked what the benefit of A22's proposals might be to Scotland's top clubs, Reichart said: "I see a big opportunity in a multi-divisional system which is granting access to 60 or 80 clubs to have a strong second column (of revenue) you can build your ambition on.
"Currently the recurrent, solid competition you're building your project on is your domestic league.
"If those big clubs in smaller countries would have a chance of a stronger, more sustainable, more predictable European footprint, with a guaranteed amount of matches ahead of the season they qualified for, that could actually give them, step by step, an opportunity to have a more meaningful European path and build that project and their European ambition on something which is more predictable.
"It's more stable than qualifying for the Champions League or trying to go through the previous rounds of qualification, because for a lot of clubs the Champions League and the other UEFA competitions are far from being wide open."
The future and shape of any new Super League project hinges on the outcome of a European Court of Justice Grand Chamber ruling expected later this year. A22 brought a case against UEFA and FIFA, arguing that the governing bodies were abusing a dominant position under European competition law by first blocking the formation of the old Super League, and then seeking to sanction those involved.
A22 said last month that its proposed competition would be open to "at least" clubs from the 27 EU member states, but Reichart did not believe Brexit would be a barrier to Scottish clubs joining if they wanted to.
"It's not an exclusive project, it's an inclusive project," Reichart said.
"We mentioned the 27 because our legal certainty on what we can build and innovate on will be binding for 27 EU member states after the ECJ ruling and from there we try to design an attractive, appealing project for the territories beyond the 27 as well."
Rangers and Celtic have been approached for comment.