Eintracht Frankfurt fans clashed with police ahead of the German club's Champions League last-16 second leg against Napoli.
Footage was circulated on social media of trouble in Naples ahead of Wednesday evening's game at the Stadio Diego Armando Maradona, where supporters from Frankfurt had been banned from attending.
Videos showed officers wearing riot gear responding to missiles, including flares, being hurled by individuals among a crowd estimated at several hundred people.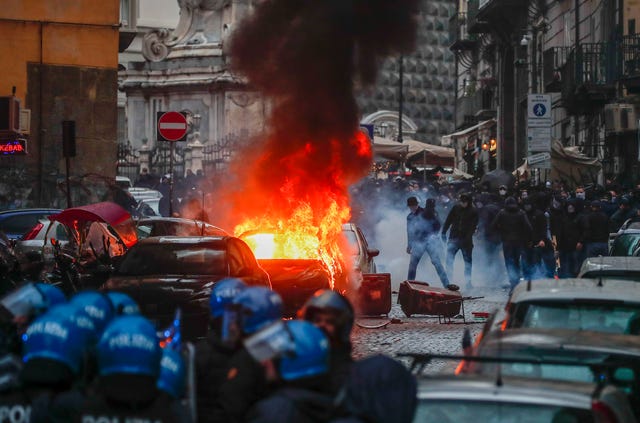 Reports from local media suggested Napoli's ultras had also been involved in the violence, during which several cars were said to have been set on fire.
Fans of Eintracht had been banned from attending the game after a series of arrests were made following unrest before the reverse fixture in Germany last month which the home side lost 2-0.
The Bundesliga club would ordinarily have been entitled to around 2,700 tickets for the game in Italy.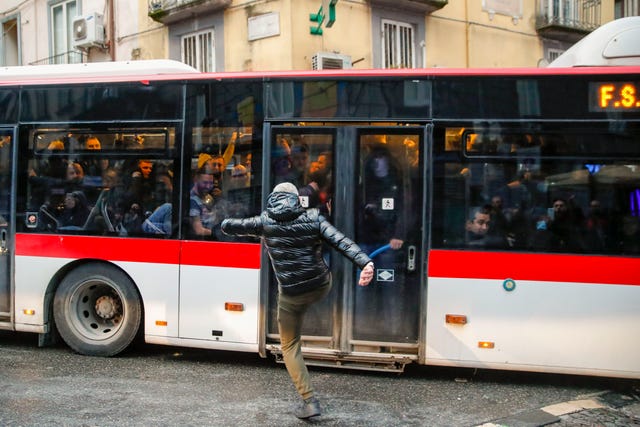 A statement on the club's official website on March 7 said: "Eintracht Frankfurt was informed late last night by UEFA that the Italian ministry of the interior is this morning going to issue an injunction against SSC Napoli, whereby the club is prohibited from selling tickets to Eintracht Frankfurt supporters for the UEFA Champions League round of 16 second leg on Wednesday 15 March.
"This would also include the total away allocation of 2,700 tickets, of which 2,400 are in the away section, which Eintracht Frankfurt is entitled to under UEFA regulations."
However, some fans still made the trip amid reports that followers of Serie A club Atalanta had joined up with them and bought tickets on their behalf.