Georgia boss Willy Sagnol feels all the pressure is on Scotland in Tuesday night's 2024 European Championship qualifier at Hampden Park.
The Scots go into the game top of Group A and with nine points from a possible nine following their dramatic 2-1 comeback win over Norway in Oslo on Saturday.
Georgia are five points behind after their 2-1 win over Cyprus on the same day but have played a game less.
Sagnol believes Scotland have to cope with the expectations of victory over the Georgians, who have lost twice in two visits to Glasgow.
"I just have to say congratulations for winning their first three games," said the 46-year-old former Bayern Munich and France full-back, who described a chance meeting with First Minister Humza Yousaf earlier in the day in Glasgow when the Georgia squad went for a walk as a "bit surprising but a nice moment. He was very nice to us".
"If you win the first three games in a five-team group then you are on the best way to qualification.
"But I feel all the pressure is on not on our shoulders but it is on Scotland's shoulders because they are playing at home against Georgia and they have to win. It would be normal for them to win.
"That's why we can go out there without any pressure. We just want to play the best match we can as we also have to keep going with our positive evolution from the last two years.
"We have shown recently against big teams when it wasn't expected, sometimes it was deserved.
"I have a group of players, who, on a good day, can beat anybody. The key is how to keep the discipline and the intensity.
"I trust my players and I have a very high opinion about their motivation to become known across Europe. They love their country and we have a lot of dreams.
"I hope Glasgow is part of a nice trip that brings us to our dreams."
Sagnol was impressed by the way Steve Clarke's side came back from 1-0 down against Norway to win 2-1 with late goals by Lyndon Dykes and Kenny McLean.
The former Saint-Etienne and Monaco player said:  "We just have to watch the last 10 minutes in Norway. Scotland is a great team with fantastic spirit.
"When they start gaining confidence they are really such a strong team.
"To go to Norway and win after being 1-0 down is not easy. Not a lot of teams can do it. That is why we have a lot of respect for this team.
"But, each match is its own story and we hope to write another very positive one for Georgia."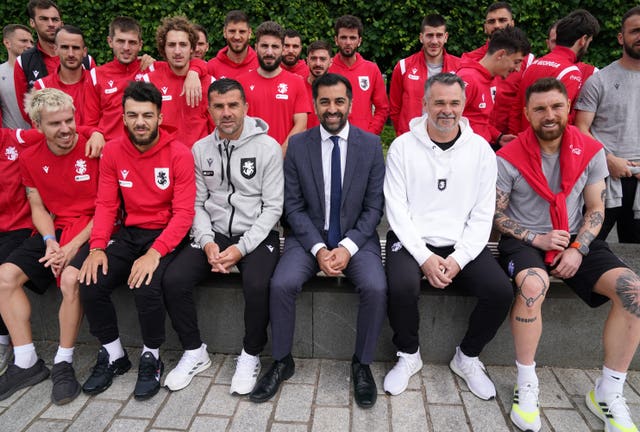 Sagnol has seen Hampden Park at its raucous best.
In 2006 he was in the France side which lost 1-0 to Scotland in a 2008 European Championship qualifier at Hampden.
And while he stressed that the "the past doesn't have any impact on the present and future" he is looking forward to a packed-out national stadium on Tuesday.
He said: "I also came here with my club to play against Celtic and Rangers.
"If you ask any player or coach from Western Europe where they enjoy the most for football and they always say the same thing – Scotland for the atmosphere in the stadium.
"What happened in 2006 doesn't impact anything but I am very excited to feel the atmosphere tomorrow, my players are excited to feel that and I hope it is going to be a great match where both teams will play very good and then maybe the best team will win at the end."