Scotland midfielder John McGinn felt Georgia were "at it" when showing reluctance to get their Euro 2024 qualifier resumed at a sodden Hampden.
McGinn was full of praise for the team of ground staff, ball boys, stewards and Scottish Football Association officials who helped sweep the pitch of excess water following a heavy downpour in the hour before kick-off on Tuesday.
The game was suspended immediately after Callum McGregor fired Scotland into a sixth-minute lead and only resumed close to two hours later following extensive work on the pitch, several pitch inspections and false dawns.
Georgia did not appear ahead of one scheduled restart time before the game eventually got back under way at 9.33pm before Scotland went on to win 2-0.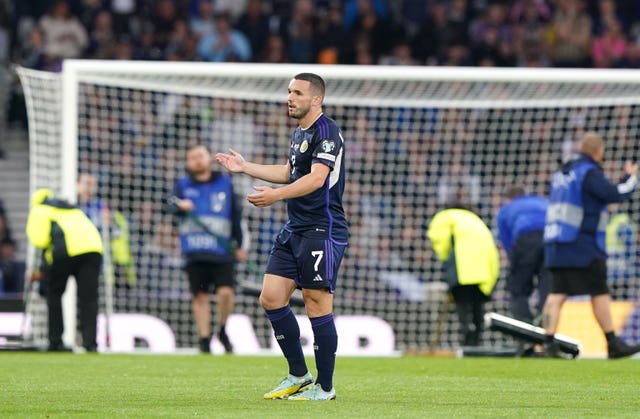 McGinn said: "The message was 'concentrate' but I wasn't doing very much concentrating. I didn't know what was going on.
"One minute it was 10 minutes kicking off, then it's 20 minutes, 30 minutes.. It wasn't fair on the fans.
"I think the game could have been played a little bit earlier but Georgia were up to it, they were at it, they wanted the game stopped, which we would probably do in the same situation.
"It was difficult, it was probably difficult for the referee but I think common sense prevailed in the end and we got the game played. But it certainly could have been played earlier."
The victory put Scotland eight points clear in Group A after they won their first four qualifiers for the first time.
McGinn said: "It feels a bit subdued. It 's a huge win for us. We are absolutely delighted. It was a really, really strange, night, something none of us have ever experienced. But we dealt with it in the best way possible.
"Credit to all the ground staff, everyone who got together. I saw the ball boys even helping at one point.
"It was really important we got the game played and thankfully for all of us we did."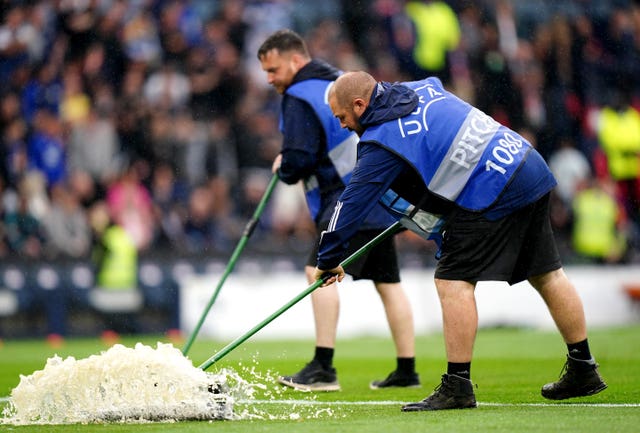 The conditions were far from ideal even after the resumption and McGinn suffered more than most, completely mis-kicking what had looked to be an excellent chance before the ball got stuck in a puddle just as he was about to shoot.
"Honestly, I couldn't believe it," the Aston Villa captain said. "I was away celebrating. I should have known the puddle was there. Big McTominay was laughing at me as we were running back.
"It's just one of these things, you need to adapt. We have had this issue here against San Marino before. Maybe it's something they will look at, I don't know, I am not a turf specialist."
McGinn dismissed suggestions that Georgia's delaying tactics had given Scotland any more motivation.
"The motivation for us was four wins out of four," the former St Mirren and Hibernian player said.
"It's surreal for us as Scottish players just to say that but something has changed in that dressing room and we are certainly building something here and it's exciting. We are looking at the table and starting to get really excited.
"Spain have got games to catch us up but we want to qualify. We are very, very close now which is exciting in itself.
"We will take one step at a time and not get carried away but we are very, very close now."