Liverpool fans have been praised for averting a fatal disaster at last year's Champions League final against Real Madrid.
Professor Clifford Stott, co-author of the independent report into the chaotic scenes outside the Stade de France in May, said only the actions of supporters involved in the dangerous congestion outside the ground prevented tragedy.
Asked how he would describe fans' behaviour Stott, professor of Social Psychology at Keele University who has been involved as an advisor on policing policy for UEFA since 2004, told Sky Sports News: "There would be one word to describe it and that would be impeccable.
"I think if you read the report, it's mentioned a number of times in terms of being called a near-miss and, frankly, I think if it wasn't Liverpool supporters, people might have reacted differently.
"We were looking at a situation where crushes developed which could have been fatal and it was the ability of Liverpool fans to recognise the challenges being faced by themselves and others and organise collectively to address those challenges which helped people avoid death.
"Had that not happened we believe we would have been looking at a stadium disaster where people would have died."
Liverpool chief executive Billy Hogan said fans' experience and understanding of the 1989 Hillsborough tragedy, in which 97 people were killed, had left him with "a sense of pride in terms of the behaviour of our supporters".
The independent report discovered that references to Hillsborough had formed part of the police's strategy in planning for the final, but the panel concluded "no one involved in the planning of a major football match has any excuse for believing it was a disaster caused or contributed to by the actions of supporters".
Claims by the French authorities that thousands of ticketless fans or those with forgeries had caused problems were also debunked by the report.
Peter Scarfe, who runs the Hillsborough Survivors Support Alliance, said events at the Stade de France had understandably triggered memories for some fans who had been involved in the 1989 disaster and two members of the group had taken their own lives since the May final.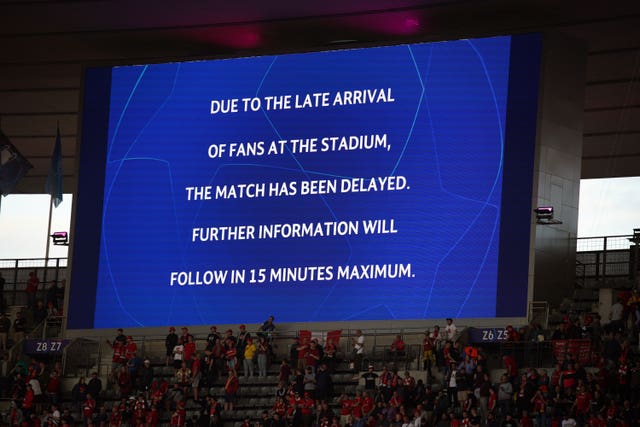 "Praise should go to the Liverpool fans who understand and have a lived experience because it prevented what would have been a disaster," he told the PA news agency.
"Without a shadow of a doubt it was down to relatives of the 97, the Hillsborough survivors themselves, their families and those who have been educated by people at Hillsborough to self-police.
"Fans themselves self-policed, stayed calm, controlled the situation and prevented another catastrophe happening.
"UEFA has to accept it got it wrong and whoever was in charge didn't do their job properly. It is a massive failure and people should lose their jobs because of this."
Among the 21 recommendations made by the panel is one which urges UEFA to "include fuller and more proactive engagement with disabled supporter organisations and the respective clubs to determine needs and requirements".
Ted Morris, chairman of the Liverpool Disabled Supporters Association, believes that is a major step forward.
"The emphasis put on disabled fans and the harrowing and horrific experience they went through, I think we will see some change from UEFA and that's good for disabled supporters," he told the PA news agency.
"It is quite an historic moment for disabled supporters and I hope through this change is facilitated. I think it is a turning point.
"I think it is the behaviour of fans which has set the tone for this report.
"There was nothing to absolve us for because people who were there that day, even non-Liverpool supporters, knew Liverpool supporters did nothing wrong from the moment they arrived at the stadium.
"It is nice to see it in writing, it is nice the truth is out there, because we know how important the truth is and the damage which can be done when falsehoods and lies are spread.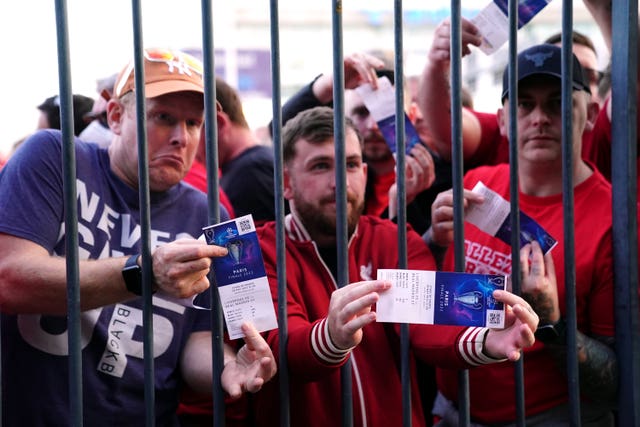 "We are not looking for recrimination and blame. To facilitate change the people who are there (at UEFA) first of all need to hold their hands up and say 'OK, this clearly went wrong'.
"If they can bring about change and admit their mistakes then everyone in life deserves a second chance. Sacking people may change nothing."
Fans group Spirit of Shankly also welcomed the publication of the report.
"The blame game began even before a ball was kicked, and in the immediate aftermath those supposedly in charge – UEFA and the authorities – had no hesitation in pointing the finger at supporters," read a statement.
"But now with the publication of the report it is clear, the fans bear no culpability, the panel concluding "overarching organisational failures" were the root of what went so badly wrong."