Liverpool fans made their anger with UEFA clear as they booed the Champions League anthem ahead of Tuesday night's clash with Real Madrid at Anfield.
Home supporters voiced their displeasure after last week's independent report put the blame for May's chaotic Paris final at the governing body's door.
'UEFA liars' read one banner in the Kop and the Champions League anthem was drowned out by jeers and whistles.
A loud rendition of "f*** UEFA" echoed around the ground before the last-16 first leg got under way.
Ahead of last season's final against Madrid, serious congestion problems outside the Stade de France saw thousands of fans penned in against perimeter fences and stuck in a motorway underpass.
Those same supporters, who had already been targeted by local youths trying to steal tickets, were then tear-gassed by police trying to alleviate further problems after a decision was made to close turnstile gates, but that only compounded the issue.
A report into the scenes found European football's governing body bore "primary responsibility for failures" which almost led to a "mass fatality catastrophe".
The report completely exonerated the behaviour of Liverpool fans, calling UEFA's attempt to blame them for arriving late and delaying kick-off "manifestly inaccurate", while it also made damning reading for the French authorities.
There were renewed anti-UEFA chants in the 36th minute at Anfield – the amount of time the kick-off was delayed by at the Stade de France.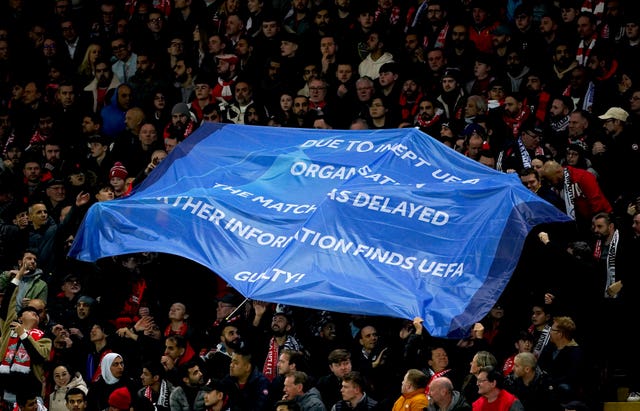 Banners were held aloft in the Kop, including one imploring UEFA president Aleksander Ceferin and Martin Kallen, UEFA Events SA chief executive, to resign.
Another said "menteurs" – the French word for liars – alongside images of French interior minister Gerald Darmanin and sports minister Amelie Oudea-Castera with Pinocchio noses.
In the build-up to Tuesday's game, BT Sport apologised to Liverpool supporters for its coverage of the chaos outside the Stade de France prior to last year's final.
Presenter Jake Humphrey said it should not have taken statements posted by UEFA on big screens inside the stadium at face value.
He said on BT Sport: "We are hugely regretful that we were reading out those false statements, the only statements shared on the big screens inside the stadium was a completely false narrative. I just want to say sorry to all the people involved in this football club."
Former Liverpool captain Steven Gerrard, who was working as a pundit at the final, called the governing body's actions "a disgrace" and insisted they must not be allowed to happen again.
"The news is very welcome in this stadium and amongst every Liverpool fan because it's not good enough," Gerrard said.
"The treatment on the night was a disgrace, it's the only time as a pundit I've never really enjoyed it…we were getting the wrong information fed to us and there was a lot of confusion.
"Thankfully the independent investigation has come clear, and there's no blame on the Liverpool fans, which is really important."