Pep Guardiola is determined not to allow Manchester City's past failures to weigh them down as they chase long-awaited Champions League glory.
City appear to have one foot in the semi-finals for a third successive year after beating Bayern Munich 3-0 in the first leg of their quarter-final tie last week.
They will be expected to complete the job against the Germans in the return meeting at the Allianz Arena on Wednesday.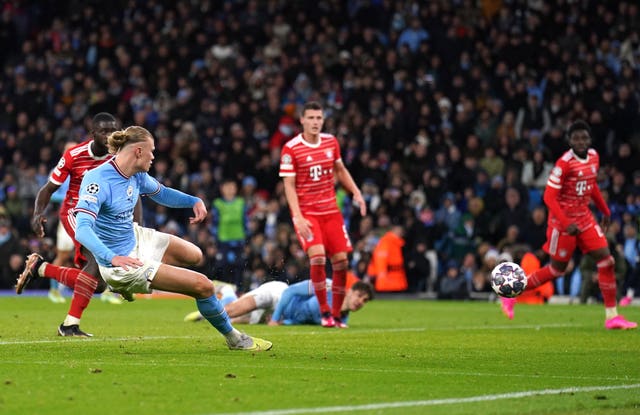 Their challenge will then be to take the next steps required to finally win the trophy for the first time after years of near-misses, including frustrating defeats against the likes of Tottenham, Lyon, Chelsea and Real Madrid.
Guardiola said at a press conference: "If you think about just the result, what you have to do, or what we've done in the past, it would be a big mistake for us.
"We have to do our game. That is how we've talked the last few days.
"We are focused a lot on what we want to do, trying not just to control the game but punish them, trying to score, understand the game and not just the fact we are here in Munich against one of the most prestigious, historic teams in this competition.
"I don't understand a situation just to come here and defend something. We come here to play a football game, 11 men against 11. We try to do better than the opponent in this specific game."
The reigning Premier League champions were outstanding in the first leg but Guardiola, who managed Bayern for three years before taking over at City in 2016, expects his old club to come out fighting.
He said: "I've been here and I know the mentality of this club, it's everywhere. It's under the skin. I know they believe they can do it.
"When you are in these type of clubs – we are trying to build this feeling, that whatever happens we can do it. They have that in their history and we are growing in that.
"We are going to (have to) defend for sure. In Manchester, for part of the game they were better and we had to defend. We are going to defend tomorrow.
"But for us it is an opportunity. If we play a game thinking about history we cannot play. The best way is to go to try to win the game."
City are boosted by the return of Phil Foden.
The England midfielder has been out of action since undergoing appendix surgery last month but has travelled with the squad and could play a part.
Guardiola said: "It is good news for us. He had one training and we decided he would travel with us and be on the bench.
"He is a special player who doesn't need a lot of training sessions to be fit."
Guardiola was joined for pre-match media duties by midfielder Ilkay Gundogan but the Germany international was coy on the subject of his future.
The 32-year-old is out of contract at the end of the season and has been linked with Barcelona.
Gundogan said: "There are talks in the background. That's quite normal with just a couple of months left but there is nothing decided yet from my side or the club's side, so the talks are continuing. If there's a decision at one point, you guys will be the first ones to know."