Defender Virgil van Dijk admits Liverpool face an "almost impossible" job to save their Champions League hopes against Real Madrid in the Bernabeu.
A 2-0 lead was turned into a 5-2 defeat – their heaviest at home in Europe – in a 46-minute spell during the last-16 first leg clash as Jurgen Klopp's side collapsed in the second half against the holders and 14-time winners.
Their 2005 comeback against AC Milan in the Istanbul final aside, Liverpool's greatest European heroics have always come at Anfield, but the ease with which they were carved open in front of their own fans makes the chances of a comeback in Madrid remote at best.
"We have almost an impossible job in Madrid in three weeks' time, but when the time is right, we'll focus and we'll give everything to represent the club as good as we can," said the Netherlands captain.
"The only thing we can do is watch it, learn from it and make sure it doesn't happen in the next game we play, which is Crystal Palace.
"It sounds pretty easy but it isn't – that's the hard reality.
"If you look back in the last two games, we played well (beating Everton and Newcastle) and that's something we should focus on as well and don't be in panic.
"Obviously we are all disappointed we lost, that is how we should be, but the way we lost, almost not giving ourselves a chance in Madrid, is tough."
A dream start with goals from Darwin Nunez and Mohamed Salah, surpassing Steven Gerrard's club record for European goals with his 42nd, inside the opening 14 minutes appeared to have set the tone for another famous night at Anfield.
However, once they conceded the first of two to Vinicius Jr, Liverpool's fragile confidence evaporated.
When Real went ahead two minutes into the second half, all semblance of composure and structure disappeared completely and they were punished with devastating effect by the side who denied them in May's final in Paris.
"They have quality players all over the team, they can punish you and punish mistakes that you make and that's what they did, especially in the second half," said Van Dijk.
"It's pretty clear to see (we made) mistakes that we shouldn't make but it happens in football. We're not robots.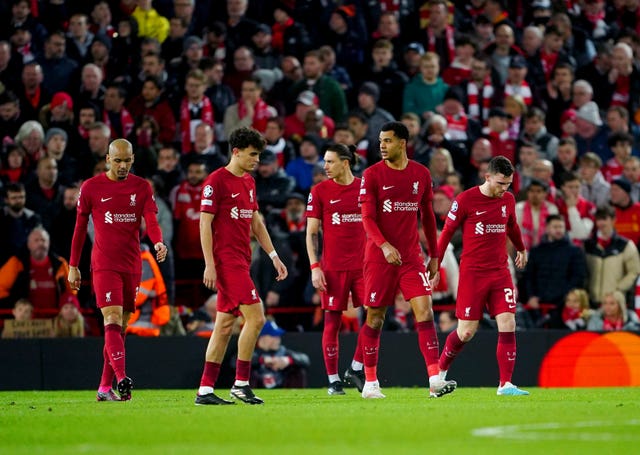 "I think we were rushed at times and lost the ball in difficult moments and they have the pace and quality to punish us and they were fantastic. It is something we have to deal with as a group.
"It's not been the easiest season so far but the only way to get out of it is to stick together and that's the message – even now.
"Everyone is angry, everyone is obviously disappointed but the next game is in four days (at Palace), so if we want to perform there we have to quickly change the switch and that's what we're going to do."
Liverpool have now conceded three or more goals eight times this season and their defensive problems were not helped by a potential injury to Joe Gomez, who was withdrawn as a precaution.
Ibrahima Konate is still out with a hamstring problem and with Van Dijk looking as vulnerable as anyone against Real – with even usually-dependable goalkeeper Alisson Becker making an error for Madrid's equaliser – it appears any hopes they had turned a corner after back-to-back clean sheets were misplaced.
Yet they remain only seven points behind fourth-placed Tottenham with two matches in hand and have 16 matches remaining to salvage a season which still teeters on the brink of unravelling.