John McGinn had no qualms about Scotland wasting time during their momentous win over Spain on Tuesday night as he addressed Spanish gripes about the Euro 2024 qualifier at Hampden Park.
A double from midfielder Scott McTominay gave the Scots a sensational 2-0 victory and took them top of Group A with six points from six following the 3-0 home win over Cyprus at the weekend.
The top-seeded visitors left Glasgow far from happy, with captain Rodri criticising Scotland's "rubbish" approach to football on Viaplay – "because it's always wasting time. They provoke you and they always fall" – while Spain centre-back David Garcia told Teledeporte that the grass was "too long".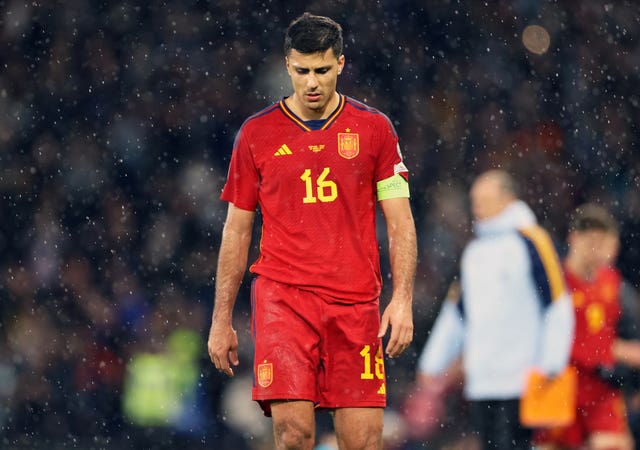 Aston Villa midfielder McGinn pleaded guilty to some charges with the mitigation of being an unfancied underdog, telling Sky Sports Scotland: "I did see the comments. I don't really have a huge amount of reaction.
"I wasn't really sure that was something that could be targeted at us, falling about.
"Wasting time? Absolutely. If anyone expects us to go head-to-head with Spain in a tiki-taka battle for 90 minutes and expects us to come away with three points then there is absolutely no chance.
"So I think everyone needs to get a bit of realism about it, realise that we need to find a way to beat Spain and we managed to do it.
"The grass is a bit long, the pitch was a little bit sticky but it is in Scotland, not Spain. That's the benefits of being the home team.
"I thought we handled the game well, maturely.
"Did we waste time a wee bit? Absolutely because we were winning from an early point.
"Were we rolling about in challenges? No, we were the same as the Spain players so I don't really agree with that but Spain are a top team and I am sure they will be back."
Luis de la Fuente, in his second game as Spain boss following their 3-0 win over Norway at the weekend, made eight changes to his side for the trip to Hampden and McGinn believes the move backfired.
The former St Mirren and Hibernian player said: "We had a lot of belief.
"We were obviously a little bit buoyed by the team selection of Spain, they made a lot of changes.
"I wasn't sure whether that was to freshen it up or they thought that they could come to Hampden and just sweep us aside with any team.
"No matter what team I played for, as soon as the other team gets announced it goes on the board.
"When you work each day to prepare and play against a team and it is almost completely different, it's weird. It's difficult, probably for coaches as well, to try and put messages across. But it was surprising to see so many changes.
"It is a new manager in so you can't predict what he is going to do but making eight changes is something we didn't expect.
"A lot of new faces in the team so we knew we had to start brightly and fast to try to make them uncomfortable and that's what we managed to do.
"We got the first goal and our shape was excellent and they couldn't really break us down which was good.
"So it was a special, special night at Hampden and one that I remember for the rest of my life."