Tottenham boss Ange Postecoglou insists only one transfer deadline counts as he aimed a thinly-veiled dig at Bayern Munich's public pursuit of Harry Kane after the forward scored four goals against Shakhtar Donetsk.
Kane put the uncertainty over his future to one side to produce a classic display of predatory finishing in what could prove to be his final appearance in Spurs' colours.
Bayern are reported to have lodged their latest offer for Kane on Friday and an apparent self-imposed deadline of midnight was set by the German club, but there has been no further news on the outcome of that bid and Kane grabbed a hat-trick in 55 minutes of a 5-1 friendly win over Shakhtar.
Kane added another goal in the 79th-minute before he left the pitch a minute later to a standing ovation following more chants of 'he's one of our own' and at the conclusion of the clash the club's record goal-scorer walked around the pitch to clap all four corners of the ground in what felt a significant moment.
"We know there's one deadline and that's the end of the transfer window," Postecoglou pointed out.
"Beyond that, I'm in open dialogue with Harry and with the club on a regular basis. I've said to them that if the status quo changes then inform me.
"I don't need to know about the comings and goings in between. I just want to deal with what's in front of me because, irrespective of the outcome of that, I'm building a team here. I can't wait (around) for a decision either way to get going.
"We don't have the time or the luxury to do that. I'm working with what's in front of me. You saw today that Harry certainly is invested in what we're doing and we'll keep on doing that unless something changes."
Bayern have been public about their desire to sign Kane all summer, with their honorary president Uli Hoeness and president Herbert Hainer talking openly in the media last month about trying to sign the England captain.
Postecoglou added: "That's up to Bayern to decide. If that's the way they want to conduct things, it's not up to me to judge that.
"It doesn't affect me. I don't sit there on a daily basis and worry about what other clubs are doing.
"I think what is factual right now is that he is a contracted player of our football club.
"I certainly wouldn't talk about contracted players at other football clubs but I'm not at Bayern mate so they can go the way they want."
While a lot of the focus on Sunday was on Kane, amongst the spectators at Tottenham Hotspur Stadium was Wolfsburg centre-back Micky van de Ven.
Netherlands defender Van de Ven is scheduled to have a medical at Spurs' training ground on Monday.
But asked about Van de Ven, Postecoglou replied: "It hasn't been done yet, so it's not right for me to talk about but there's no doubt we need some bolstering in that central defensive area.
"Hopefully we'll get one or two done in the next couple of days to bolster us in that area."
While Van de Ven's future looks certain to be at Tottenham, Kane's club for this campaign remains up in the air.
Postecoglou refused to be drawn into the significance of Kane walking alone to applaud all four corners of the stadium at full-time.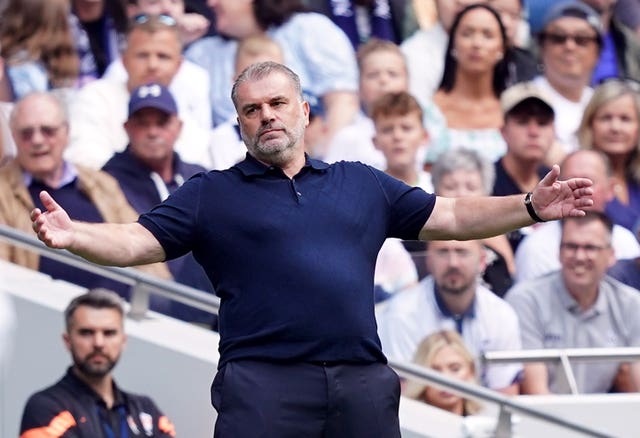 "You are reading something into it, aren't you," he added.
"I don't even know what's in Harry's mind, let alone anyone else's. I think all these things will obviously play out over the next period, we'll deal with what happens from there.
"From my perspective, I've got a team to build here. Today showed me that we've made some progress but there's still a lot of work to do.
"There were areas today I wasn't delighted with, so we need to make sure we focus on getting this team right. We'll see what happens after that.
"He's a fantastic striker, one of the world's best. I think the way the team plays will help him as well. He loves scoring goals and you saw today we created a load of chances and he was the beneficiary of that."