Gabriel Jesus wants to kick on and get his rhythm back after the Arsenal striker scored for the first time since overcoming a nagging, frustrating knee issue.
The 26-year-old impressed after joining from Manchester City last summer but was laid low in December with an injury sustained in Brazil's World Cup group game against Cameroon.
Jesus did not return to action for Arsenal until mid-March and had to go back under the knife last month due to irritation with the original knee problem.
The striker made his second substitute appearance since then on Sunday, when he completed a memorable late 3-1 Premier League comeback win against Manchester United.
"I'm feeling good," Jesus said after the Emirates Stadium triumph. "It's tough when you just come back from injury.
"After a holiday, I started to feel in my knee again. It was unlucky for me. It's tough.
"After pre-season, you go and try but you feel in pain. And then I made the decision to do surgery as quickly as possible to come back stronger.
"That was tough, but now I'm getting back. It's so important to get the rhythm again, so, yeah. I'm back. I feel good and I'm happy."
Jesus says he felt completely fine at the end of last season and only once felt his knee play up at the end of a training session, but even then it felt fine the next day.
His right knee continued to feel fine during his post-season holiday and the start of pre-season, only for the issue to flare up again.
"When I came back, in the first week, still nothing," Jesus said. "Then after I started to feel it. And for me, it was (a case of) if I'm not 100 per cent, I won't be myself. I was trying.
"Personally, I'm good with the pain, so I was keeping playing and training.
"I was feeling it a little bit, but for me it was nothing. But then we hit a point when I couldn't run or move, so I decided to do a surgery and that was it."
Asked how mentally tough he found that, Jesus said: "First day is s*** when you just find out. Then the day after you realise you have to keep going, fighting and smile because I have a life.
"God has given me a life, God let me wake up every morning, so I have to be grateful, I'm blessed.
"I can walk, I can be here, I can smile, so nothing to complain. Just believe in God and keep fighting."
That belief extends to collective success at Arsenal, who head into the international break with 10 points from their first four matches after beating United on Sunday.
Marcus Rashford's opener was immediately cancelled out by Martin Odegaard, before Declan Rice and Jesus struck in stoppage time after Alejandro Garnacho saw a goal ruled out for the visitors.
"That's the Premier League," the Brazil forward said. "Sometimes the game changes a lot. We conceded, we came back, we had a penalty, didn't have a penalty.
"In my opinion there were some bad decisions from the referee.
"Even with their (disallowed) goal, maybe it was a foul on me, but it was offside.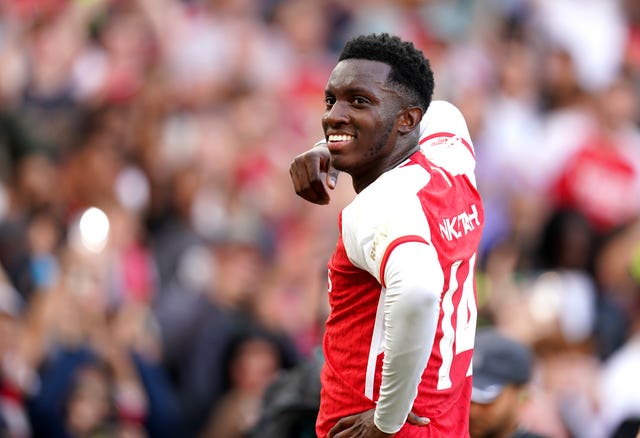 "Then, after the game changed again, we scored two and we won the game. That's it.
"When you play a massive game like this against a tough opponent, it's always like this.
"We tried to win but they have quality as well – behind, in the middle, up front. That's the Premier League, that's why it's the toughest league in the world."
Jesus now has a fortnight to recuperate and continue to build fitness, while fellow striker Eddie Nketiah gets his first taste of senior international football.
England Under-21s' all-time top scorer has been named in Gareth Southgate's squad for the first time having scored twice in the opening weeks of the campaign.
"First of all, competition is always good – for me and for him," Jesus said. "In all positions when you have competition it's a good thing.
"From day one, I'm a big fan of Eddie because of the way he works and the way he trains is amazing. It's not easy to come from the academy at a massive club and fight to play in the first team.
"Congrats to him, he's doing so well and he deserves to be called into the England national team.
"For me personally, it's good competition. It's always good for the club because for sure he's making me better and I'm making him better as well."
Arsenal return to action at Everton on September 17, with United back in action the previous day as they look to return to winning ways at home to Brighton.
Manager Erik ten Hag said: "We have to improve, definitely. But you see, and also what we have seen last year, we can beat everyone. It was such small margins today, so it could also have been our side."