Nottingham Forest boss Steve Cooper expected Callum Hudson-Odoi to have a big impact as his "moment of brilliance" earned a 1-1 draw with Burnley.
Hudson-Odoi reminded the Premier League what he is capable of with a fine debut goal, bringing his side level with a brilliant curling effort in the second half after Zeki Amdouni had put the Clarets ahead.
It is 18 months since the 22-year-old last played in England's top flight as his promising Chelsea career petered out, but, after a year on loan at Bayer Leverkusen, he was back with a bang.
He was Forest's brightest spark following his deadline-day move from Stamford Bridge and got his reward.
"Any new player will want to hit the ground running and show what they can do," Cooper said. "We got Anthony (Elanga) and Callum in really good positions and we could have done more with them.
"I know he has quality and he can have moments of brilliance. We need that at times in the Premier League and we got one tonight. It is great for him, great for us obviously.
"He hasn't played much football, he has trained well, but I backed him to do well tonight. He ran out of legs, I didn't think we'd get that long out of him. We have got to push him to do more of that.
"You see goals like that in the Premier League, there is so much quality. It is a brilliant goal. We have had a few of those scored against us but we haven't had too many of them for us. Beautiful strike, beautiful technique, great for him, great for the team. He will feel good about that."
The point for Burnley enabled them to get their campaign up and running after three successive defeats, but they might be disappointed they did not leave with all three after they were denied a late winner by VAR as Sander Berge was ruled to have handled the ball.
They then ended the game with 10 men after Lyle Foster elbowed Ryan Yates deep into added time, with VAR also intervening.
Clarets boss Vincent Kompany was pragmatic in his response.
"I have a decent business brain and a decent coaching brain, but when it comes to the laws and legalities I switch off," he said.
"A handball this way and handball that way, people come in and explain to us all of the time, but I have come to a decision to trust they know what they are doing and that they have the right intentions.
"It's not something I want to discuss too much because I can't change it now."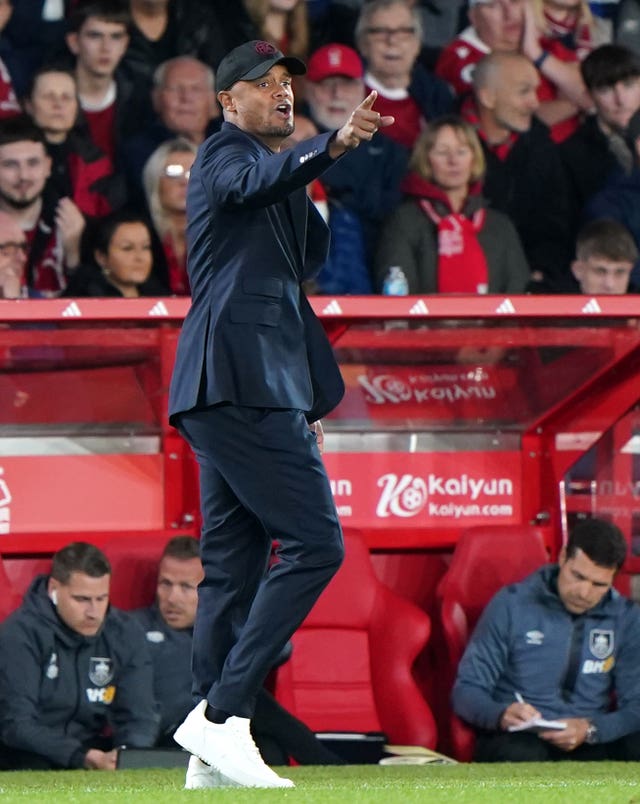 Having played Manchester City, Aston Villa and Tottenham in their opening three games, Kompany is seeing an improvement.
"You have to fight for every point in this league, but there is a range of teams that we can compete with at the moment from what I have observed," the Belgian added.
"I thought today was at least even and depending what side of the fence you sit on you probably think you deserved three points.
"But, if we stay in these games, our team has got so much progress still to go and that is the exciting things for us. In these types of games we are there, but in the future there is room for much further improvement."