Mikel Arteta lauded "tremendous" Gabriel Jesus who he claims "changed Arsenal's world last season".
Gunners boss Arteta could start the Brazil striker for the first time this term at Everton on Sunday after he recovered from a spate of injuries.
Jesus has made two substitute appearances in the Premier League this season, scoring last time out in the 3-1 victory over Manchester United on September 3.
But Arteta insists the former Manchester City forward's game is about more than goals.
"He is a tremendous player," said Arteta, whose side finished runners-up in the Premier League in 2022-23.
"A really important player for us. He changed our world last season. You could all see that. He is going to be a really important player for us.
"I think he brought a different energy, a different belief, a different threat, a different fear to opponents.
"And he did it in a really natural way and I think he contributed hugely to the step that we had last season.
"He tracks a lot of attention and players in the way he plays and creates space for others and that's a big quality.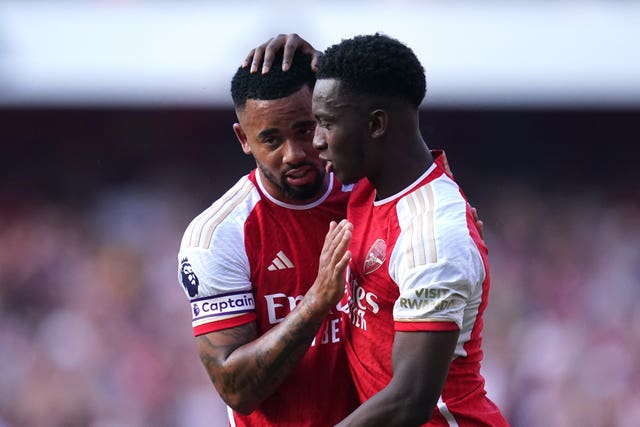 "When you sign a player you know, who has done it in the league and he's got the hunger to join us for the right reasons – it was a no-brainer for us to do it and we could see the impact he had straight away in the team."
Arsenal's last win at Goodison Park came in 2017 and they have scored just twice in their last five visits.
Former Everton player Arteta talked up Sean Dyche's side and identified the levels his players need to be at if they are to take all three points.
"For me Everton's quality is not physicality, it's what they do and they play really well and Sean (Dyche) does well at doing that," Arteta added.
"Just talking about physicality doesn't reflect the qualities they have, the reasons they do it, the intentions they have, how they build sequences and momentum in matches. There's a lot of work there so it is much deeper than that in my opinion.
"They know (Arsenal players on how hard Everton away is). Obviously we have experienced it so there's a level of focus and attention you need when you play against a team like that."
Arteta praised Eddie Nketiah after he featured in Gareth Southgate's England squad earlier this month, despite the striker not playing a single minute during victories against Ukraine and Scotland.
He said: "I think it's a big point to be named in the England national team, it's a big point.
"I was really happy and proud of him and it's the coaching staff's decision (on who starts) and he's going to have to earn the right to play, that shows you the level there is there."