The Spanish government will push for the suspension of under-fire national football federation president Luis Rubiales after he refused to resign.
Victor Francos, head of the state-run National Sports Council, said the government wants this to be "the 'Me Too' of Spanish football" in reference to the movement seeking to highlight and prevent sexual violence towards women.
Rubiales has been widely criticised for kissing midfielder Jenni Hermoso on the lips at the medal and trophy presentation following Spain's World Cup victory, something she later said on social media she "didn't like".
The Spanish media had widely reported on Thursday evening that Rubiales would stand down at an extraordinary general assembly of the Spanish federation (RFEF) on Friday but instead he was defiant.
That did not go down well with the Spanish government, and Francos told a press conference in Tarragona: "What Mr Rubiales has done is aggravate the situation. The government will not be impassive.
"Mr Rubiales said he was not resigning. We want to convey one thing with all the institutional respect that the president of the RFEF deserves.
"The government begins today the procedures so that Mr Rubiales has to give explanations before the Administrative Court of Sport (TAD) and, if the TAD is willing, we will suspend Mr Rubiales in his functions.
"Today we will file a complaint with the TAD. The complaint will arrive this afternoon and we request that there be an extraordinary meeting of the court next Monday.
"We want this to be the 'Me Too' of Spanish football and that this means a change. I apologise to the players, because they didn't deserve this week. Hopefully we can celebrate again when this storm passes."
FIFA had on Thursday opened disciplinary proceedings against Rubiales, who also grabbed his crotch in celebration of Spain's victory over England despite being just metres away from Spain's Queen Letizia and her teenage daughter in the stadium VIP area.
Rubiales apologised for his behaviour in the VIP area but insisted in his speech on Friday that the Hermoso kiss was "spontaneous, mutual, euphoric and consensual".
He said he had been the target of a "social assassination" and repeatedly and emphatically stated "I will not resign", words that drew applause from the gathered delegates.
Rubiales' defiant stance prompted fresh calls for the Spanish government to take action, while world players' union FIFPRO said UEFA – for whom Rubiales is an executive committee member and vice-president – must open disciplinary proceedings.
But perhaps the most damning response of all came from Barcelona and Spain star Alexia Putellas, who posted on X: "This is unacceptable. It's over. With you my team-mate @Jennihermoso."
Yolanda Diaz, Spain's second deputy prime minister, said the government "must act and take urgent measures", adding: "Impunity for macho actions is over. Rubiales cannot continue in office."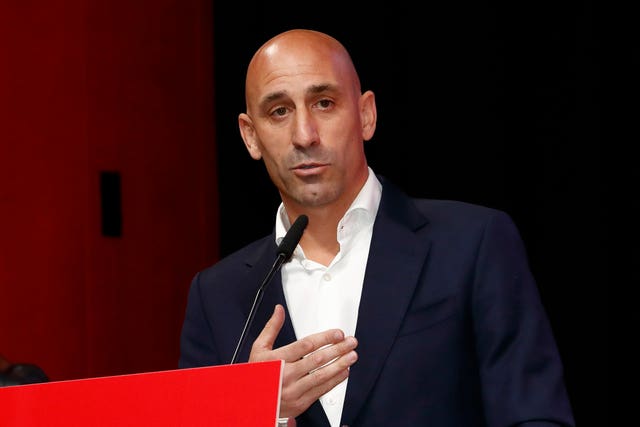 World players' union FIFPRO said it had written to UEFA urging it to open disciplinary proceedings.
"Any lack of action by authorities in addressing the conduct of Mr Rubiales would send an entirely unacceptable and damaging message to the football industry and wider society," the statement concluded.
European football's governing body has yet to issue any comment on the Rubiales case.
Arsenal's Spanish manager Mikel Arteta was asked whether the controversy over Rubiales had overshadowed his country's World Cup success.
"Hopefully it doesn't because I'm extremely proud of what they (the players) have done," he said at a press conference on Friday.
"The whole country is, but I don't have the full details so I cannot comment on what happened today. But it is sad that this is happening while everyone should be celebrating and be extremely proud of what they've done."
Paris St Germain coach Luis Enrique, who coached Spain's men's team at last year's World Cup in Qatar, said Rubiales' work as FA president had been "exceptional", adding: "The statistics are there to see so he has done brilliantly.
"As for what happened in the last game, the president has admitted his mistake so I don't have to offer my opinion."