Everton winger Jack Harrison took advice from Frank Lampard about the importance of having an on-field ego and believes he is reaping the benefits.
The rookie professional had to pluck up the courage to knock on the experienced England international's hotel room door when they were team-mates at New York City.
He asked about confidence and Lampard, who was sacked as Everton manager six months before Harrison arrived, spoke to him about ego and self-belief.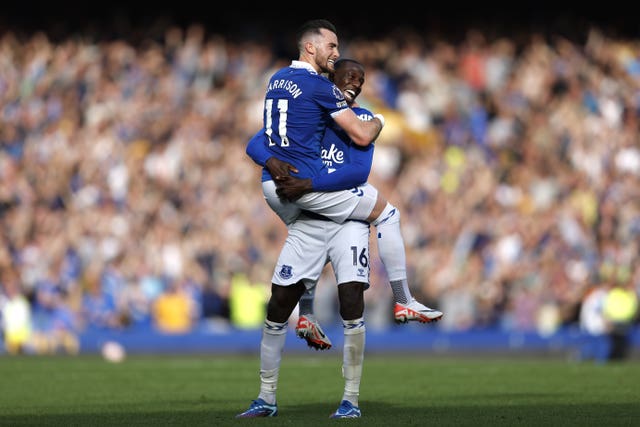 It is advice he has carried with him since moving back to England with Leeds and now on loan at Goodison Park.
His confidence was boosted further by his maiden Everton goal – a brilliant instinctive lob over Bournemouth goalkeeper Neto – in only his third appearance in which the wise words of Lampard probably played some part.
"I remember going to Frank's room one time, knocking on his door asking for advice on certain mentality, how to be. I sat in his room and just chatted for half-an-hour," said Harrison, who gained more valuable information after four seasons with Marcelo Bielsa at Elland Road.
"I think having that ego and confidence on the pitch was something that maybe challenged me a little bit. It was difficult for me to bring out.
"But after talking to Frank (he said) it was something he applied to himself. When you step out on that pitch he used to tell himself he was the best player.
"It doesn't have to be in a nasty way or anything but it's definitely important to have.
"I was watching an interview Zlatan Ibrahimovic did where he said he felt like God when he was on the pitch. Maybe I'm not at that level but it's nice to hear similar stories.
"When you are lining up against Mo Salah you have to do your best against them. That mentality, feeling like you belong, is a big part of it."
Harrison's two seasons in New York playing alongside Lampard, Andrea Pirlo and David Silva and managed by Patrick Vieira were formative but after being brought home by Manchester City his real development came at Leeds.
Bielsa's methods were so intense the 26-year-old still has 'flashbacks'.
"It was beyond anything I'd seen before," said Harrison ahead of Saturday's Merseyside derby.
"Because everything was so regimented and we were working so hard the three years almost flew by. I don't think in all of that time I took a step back to really enjoy playing with him.
"Looking back now, I just wish I enjoyed it a little bit more in the moment but I'm super grateful.
"It has made me the player I am today working with him, building those foundations when I first came back to England.
"I know what the standard is. If I'm ever struggling or lose sight of where I need to be, I can always go back to that time.
"Sometimes even on a day off I will have in the back of my mind, 'OK, I need to do something today.' Some of the guys here (at Everton) will say 'Bielsa has drilled you so much'.
"It is a good kind of characteristic to have in your back pocket just in case you need it."
For all the football input the biggest influence on his career is mum Debbie, who took him away from Liverpool's academy when he was a six and Manchester United's when he was 14 to send him to a United States boarding school for a better chance of success.
"Her providing me with that opportunity at the time was definitely outside the box. I was an only child and she was a single mother. I have to give all the credit to my mum," said Harrison.
"Coming back to England I wanted to do everything I could to repay here for that, be it a house or a car or she doesn't have to work any more.
"Going to New York and playing professionally for the first time I was really thankful to my mum because there were a lot of people saying 'Oh why didn't you stay at Man United?'.
"I'd always had that in the back of my mind because I'd seen the likes of Scott McTominay come up and absolutely smash it with the first team. I did think, 'What could have happened if I'd stayed at United?'.
"But as soon as I made it to New York and saw where I was it gave me a different perspective where I was able to thrive.
"At that point I thought 'It doesn't matter what would have happened, this is my path now'. There's nothing you can do about the past so you have to keep looking forward."