James Maddison has promised to fill the creative void at Tottenham after he admitted to a sense of inevitability about joining the club.
The England international completed a £40million move to Spurs from Leicester in June and will make his debut in Sunday's Premier League opener away to Brentford.
It will mark the start of a new era for Tottenham with a huge sense of mixed emotions amongst the fanbase after Harry Kane's transfer to Bayern Munich was finalised on Saturday.
While Kane's departure is a bitter pill to swallow, there remains optimism about the attacking brand of football new manager Ange Postecoglou will try to implement and excitement around signings like Maddison.
Speaking at a TNT Sports event last week before Kane's departure, Maddison said: "When I was speaking to my agent about moving clubs and you come to a place where you need to make decisions, where you want to go and what you think fits best, I could actually see myself playing for Spurs.
"There's a little window for me at Tottenham Hotspur, a creative player that they've always had, maybe not had in recent years.
"I could definitely see myself, when making the decision, playing for Tottenham, in that kit, in that stadium and being the creative player I know I can be.
"I've always had a strong self belief and I'll always back myself and my own ability to succeed. It hasn't failed me so far so I will continue to have that mindset and attitude. I just saw myself playing at Tottenham."
Maddison, 27, had been tracked by Spurs since he was a teenager at Coventry and following spells with Norwich and Leicester, he will finally wear the white of Tottenham.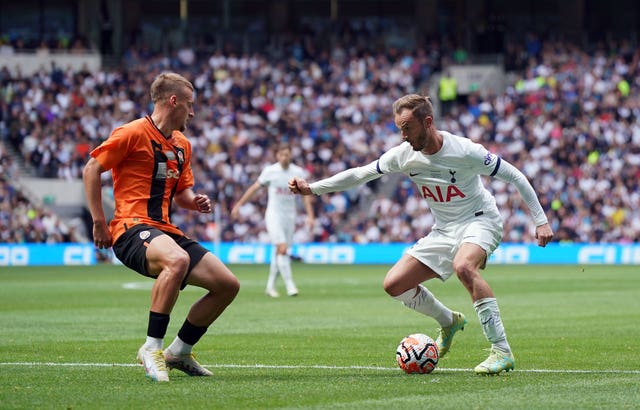 He appears the natural heir to Christian Eriksen, who wore the crown as the team's chief creator until his departure in 2020.
Kane has carried the creative burden alongside his goalscoring exploits in recent seasons under the pragmatic football of Jose Mourinho and Antonio Conte, but his exit on the eve of the season will further put the onus on Maddison.
"There was interest that never really fully materialised for whatever reason," Maddison reflected on Spurs' past interest.
"When I spoke to the chairman (Daniel Levy), he shared with me that he was a fan of mine and had followed my career for a while. That was obviously nice to hear.
"Sometimes things don't always work out and you can't just like a player and get them, it doesn't always work like that. It is a little bit more complicated than that, but it was nice to hear and that there had been interest.
"You do see sometimes hear rumours and paper talk and stuff, but when it did materialise and I ended up speaking to the manager and chairman, it was a thing I was flattered by and I'm really happy to be at Tottenham."
If Maddison buys into the notion that he fits in at Spurs, he has a similar opinion of new boss Postecoglou, who made the former Leicester playmaker one of his vice-captains on Saturday.
Postecoglou will make his Premier League bow at Brentford and while his name does not carry the same weight that Mourinho and Conte did, there seems no doubt fans will quickly get on board if his bold, attacking style can translate into results.
Maddison added: "I think that's why he's at Tottenham as well because of how he likes to play.
"It kind of suits Tottenham and maybe what they lacked a little bit with managers of recent times. The club has obviously had some big name managers and the type of football I imagine Spurs fans want to see has been a little bit lacking.
"But the quality is there to be an attacking team. The players are there to do it and the manager made no hesitation on the way he wants to play."