Newcastle boss Eddie Howe has encouraged home-grown midfielder Sean Longstaff to set his sights on an England call-up after shining on the European stage.
The 25-year-old's career, which looked to have stalled under Steve Bruce, has been resurrected since Howe took over in November 2021 and he played a key role in Wednesday night's 4-1 Champions League victory over Paris St Germain with a tireless display capped with the third goal.
Longstaff has been a key figure in the side which has gone six games undefeated and conceded just a single goal ahead of Sunday's Premier League trip to West Ham, and while the Magpies' head coach studiously avoids trying to pick Gareth Southgate's squad for him, he insists the Academy graduate has what it takes to play international football.
Howe said: "I haven't spoken with Sean in any great detail about the England squad or his dreams and aims, but I'd encourage it for him because I think he is good enough.
"I think he's got everything depending on what system you want to play but for us, he perfectly fits the number eight role that we're using him in.
"I'd love to see him score more goals and get in more goalscoring positions because I think he is a very good finisher – you saw the other night with a really good goal – so hopefully there's more to come from him.
"But he's certainly done very well at the start of this season."
North Shields-born Longstaff's re-emergence has ensured a Geordie presence in Howe's increasingly-cosmopolitan starting XI and he is not alone with Blyth native Dan Burn having made the left-back spot his own since his £13million arrival from Brighton in January last year.
At 6ft 6in, the 31-year-old – who also scored against PSG – does not fit the usual profile for a full-back, but having played the role earlier in his career, has adapted admirably to what he has been asked to do.
Howe said: "He's been magnificent. He's unusual. There are not many Dan Burn-type players playing football.
"He's done so well to adapt to the position, but it's a position he's played before, so it's not new to him. It's just new to him for us, but technically he's been very good.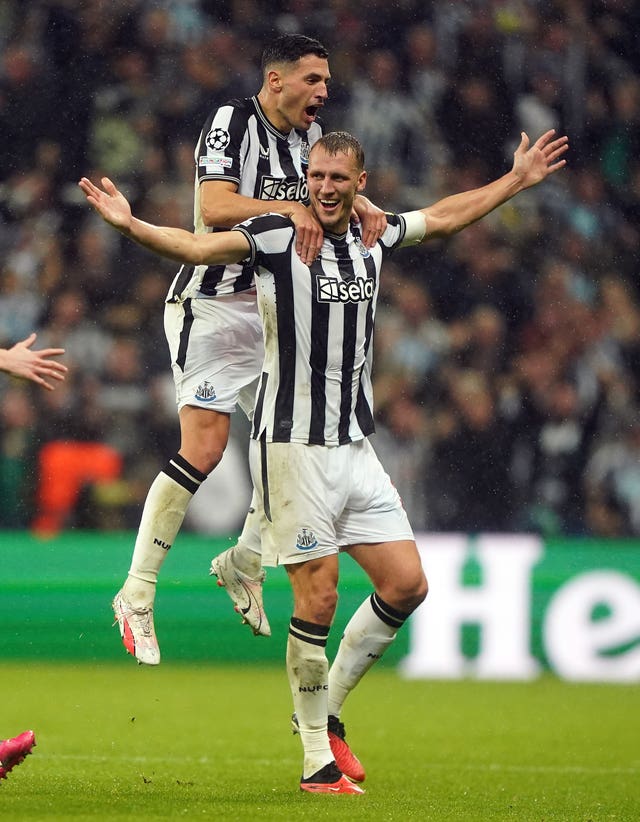 "Defensively, he's got a brilliant mindset to defending. He enjoys defending, he wants to defend.
"You can see in the last two games, the amount of good decisions he's made against very good opponents, whether that's a fast tricky winger or someone who is good positionally.
"He finds a way to react really well in-game to make adjustments to deal with his opponent."