Michael Beale spoke of "a rough week behind the scenes" ending on a high after a late Rangers surge gave them a 4-0 cinch Premiership win over Livingston at Ibrox.
The Govan outfit came in for heavy criticism after losing their league opener 1-0 at Kilmarnock last weekend and there were still some misgivings after the Gers beat Servette 2-1 in the first leg of their Champions League qualifier at home on Wednesday night.
On a day that midfielder Jose Cifuentes made his first start, Sam Lammers opened the scoring with a drive after 10 minutes but it was a struggle thereafter until Brazilian attacker Danilo headed in a second in the 78th minute, with further goals from substitutes Abdallah Sima and Kieran Dowell putting gloss on the scoreline.
Beale said: "The game was in three parts. The first part we started really well and scored a really good first goal.
"Todd (Cantwell) did great linking with Cyriel (Dessers) and it was nice for Sam to get his first official goal.
"Cifuentes had a fantastic debut but after his goal gets called off (for handball) we slowed down and got stuffy.
"We spoke about that but it didn't improve till the subs came on. If anything part of our play was wasteful when we had good moments.
"There was tension in the stadium. We had some good moments when we should have killed things off and didn't.
"Fair play to Sima and Rabbi (Matondo), they gave us what we needed and took us up the pitch and we got back to where we started in the game. We improved and I'm pleased that those three then got their first goals too.
"So it was a mixed bag. It was a rough week behind the scenes. Players going into the first home game in the league in a season when we are under more than a little bit of pressure.
"For the new guys they rode every emotion this week. That's why at the end of the week when I pick the bones out of it I'll be positive rather than pessimistic.
"The new guys have scored their goals, Dujon (Sterling) had his debut, Jose was excellent and Jack (Butland) has his first clean sheet so all in all, the week has ended better than it started."
Livi boss David Martindale was somewhat bemused to leave Ibrox on the back of such a negative scoreline.
He said: "Goals change games. Believe it or not, I was sitting there thinking that (goalkeeper) Shamal George had a good game but he's picked the ball out of the net four times.
"I think this has been my 10th year at Livingston and we've played Rangers in eight of those years.
"I've been battered in games, I've lost them 1-0, I've lost them 2-0. I think this is my heaviest defeat at Ibrox and I genuinely think we've been in the game for 78 minutes.
"We managed to nullify a lot of the threats that Rangers posed, so I was fairly happy.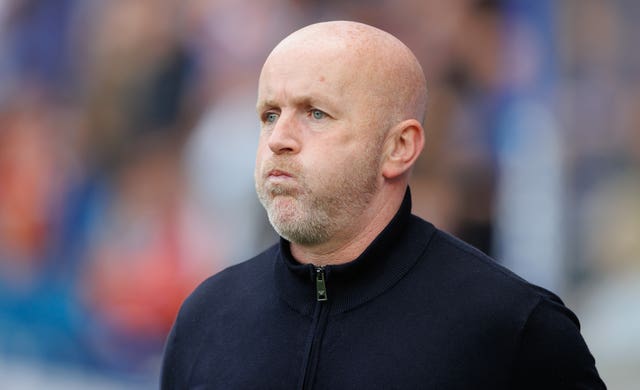 "Listen, we can do better at the first goal, but I genuinely thought we could get a goal at 1-0.
"I was just about to make a couple of changes before the second goal went in, but we allowed a cross to come in from (Borna) Barisic which we knew they were going to do and we didn't defend the back stick well enough.
"Rangers got huge energy, confidence and momentum from the crowd because up until that point, the game could have swung – they looked like they could score again and we looked like we could get one back.
"I'm frustrated, but also proud of the players up to a certain level, and also disappointed for them. I could see how much they put into it."