Hearts head coach Steven Naismith has told his players they have to use the pressure and expectation that comes with playing for the club to spur them on to Hampden.
Naismith faced the wrath of some Hearts fans on Saturday when a 1-0 reverse against St Mirren left them with five defeats in their last six games.
The former Scotland international views Tuesday's Viaplay Cup quarter-final at Kilmarnock as the perfect opportunity to atone.
"Being at a club like Hearts, when you don't win on a Saturday, there's that frustration and that's something that builds," the 37-year-old said.
"I'm comfortable and confident that by the end of the week we can look back on it being a good week and that starts on Tuesday night.
"The game at the weekend was small margins, we don't take our chances and give up a cheap goal.
"This game coming so quickly is good because it gives us a chance to react but the bigger picture is it's a chance to get to Hampden and one step closer to getting silverware which is something as a squad we are desperate to get. But also that expectation from the club is there, that we should be getting into these positions.
"It's something you become aware of when you come to the club, it's not so much any single person letting you know that.
"The crowd that travel to every away game, the crowd that are in the stadium for home games, they are there because they have a right passion for the club and want to see success.
"You could argue that over the last 10-15 years there has probably not been enough silverware.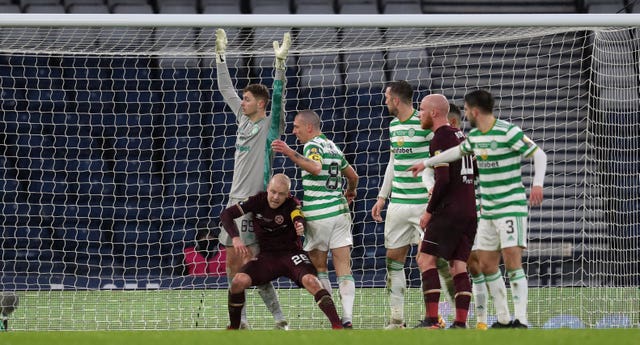 "In terms of being in the later rounds of competitions, that has been pretty successful over the last five or six years but taking that next step to win something is the most important one and one that us as a squad need to show we are capable of."
Naismith won six major trophies with Rangers and also played in cup finals with Kilmarnock and Hearts, the latter resulting in defeat by Celtic in one of three Scottish Cup finals Hearts have reached in the past five years.
"We were two or three penalty-kicks away from winning the Scottish Cup and never managed to do it," he said.
"That element of pressure for me is something I have managed throughout my career to some ways enjoy and push you forward. As players that is what you have to do.
"The week to week, day to day of signing a new contract and of playing x amount of games is one achievement but if you want real success then that's defined by winning trophies.
"As a player fortunately I managed to do it and I know what it takes, so hopefully us as a squad can do it."
Hearts have failed to score in four of their past five matches but Naismith believes there are encouraging signs.
"The frustration from my side is that we have picked up injuries to more attacking players," he said.
"One positive is, in the chances we have created, it's different players that are getting on the end of them.
"It's not as if we are relying on one player to get on the end of crosses and through-balls. We are getting plenty of men forward. It's just converting them really."
Nathaniel Atkinson drops out through injury for Hearts but Andy Halliday is back.