TOP 5 TOUCHLINE BUST UPS
After Antonio Conte and Thomas Tuchel's explosive bust up at the end of the London derby on Sunday, we take a look at 5 of the most memorable head to heads
Ally McCoist vs Neil Lennon
In the blue corner Rangers' Ally McCoist, who was assistant to Walter Smith at the time..
In the green corner, Neil Lennon, former Celtic captain notorious for his fiery temperament.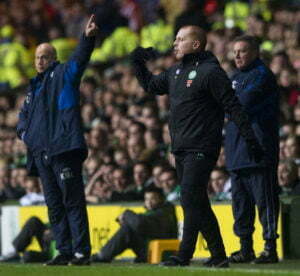 The scene was Celtic park under the lights for a midweek Scottish cup replay.
Having finished 2-2 in the first leg, a game made famous by Scott Brown giving birth to the 'Broony' celebration in front of El Hadji – Diouf, the second meeting was all set up to be a night to remember.
The game didn't disappoint in terms of drama, producing three red cards, and 13 yellows.
However, the biggest talking point came after the final whistle when the two managers lit the fuse on a powder-keg of explosive Old Firm emotion.
What followed was a parliamentary enquiry, 34 fan arrests and years of questioning what McCoist actually said to the Celtic boss causing them to square off on the touchline in front of millions watching.
Whilst we might never truly know what was said that night, it will go down as another chaotic episode in the history of the Glasgow derby.
Jose Mourinho vs Tito Villanova
Never a stranger to controversy, Jose Mourinho made headlines during the 2011 Spanish Super Cup for all the wrong reasons.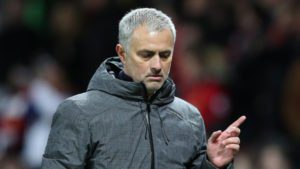 The late Tito Villanova was part of Pep Guardiola's backroom staff, before later going on to become head coach in 2012.
After a touchline brawl at the end of the game involving both teams and benches, Mourinho was spotted reaching in behind Villanova and gouging his eye in footage that would be shown the world over on repeat.
Both received an 800 dollar fine for their part in the brawl that would remain infamous more than a decade later.
Mourinho has since apologised for his actions and led tributes to Villanova who passed away after a fight with throat cancer in 2014.
Joe Jordan vs Gennaro Gattuso
Widley regarded as two of the toughest characters in football, it would take a brave soul to get in the middle of these two.
At the end of Tottenham's last 16 Champions League tie with AC Milan at the San Siro, the pair squared off, with Gattuso claiming they were 'speaking Scottish'.
Gattuso had spent a year in Jordan's home city when he signed for Rangers in 1997 but there was no reminiscing going on.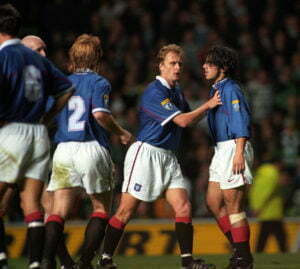 Jordan had already been enraged when Milan midfielder Mathieu Flamini had escaped a red card for a horror tackle in the second half, to which Gattuso took exception by grabbing the Tottenham assistant coach round the throat.
The spat escalated when Gattuso took his shirt off at full time and appeared to launch a head butt towards the forward Scotland forward.
Tottenham eventually came through the tie 1 – 0 and Gattuso was even considered for the Spurs job in 2021 before Antonio Conte took charge.
Arsene Wenger vs Alan Pardew
In November 2006, Arsene Wenger lost his usual composed demeanour in the face of an exuberant Alan Pardew.
Having just watched his side concede a last minute goal by Marlon Harewood to give West Ham all three points, the Frenchman saw red.
In footage from the touchline he appeared to push and swear at Pardew for his over celebration.
Pardew retaliated by pushing back, with the pair having to be separated by the fourth official.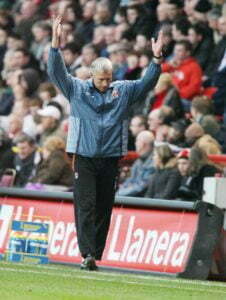 Both managers were subsequently charged with improper conduct and would set the tone for Pardew in the premier league.
Alan Pardew vs David Meyler
Back on this list for the second time, Alan Pardew made history in the top flight of English football by providing the cameras with a moment that would go down in history.
As manager of Newcastle, Pardew clashed with Meyler on the side line and head butted the midfielder as he went to retrieve the ball for a throw in.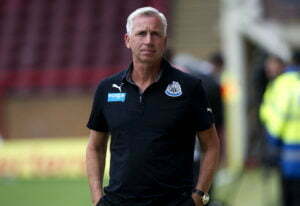 The football world looked on stunned and immediately there were calls for him to be sacked.
Newcastle issued a £100K fine to their head coach but refused to remove him from his position.
The FA meanwhile handed out a seven game ban, their harshest ever sentence at the time.