Tottenham have rejected Bayern Munich's latest offer for Harry Kane.
Bayern submitted their third offer of the summer for the England captain on Friday and an apparent deadline of midnight was also set by the German club.
All weekend passed without any further development but Spurs have now responded on Monday and rejected Bayern's latest bid, the PA news agency understands.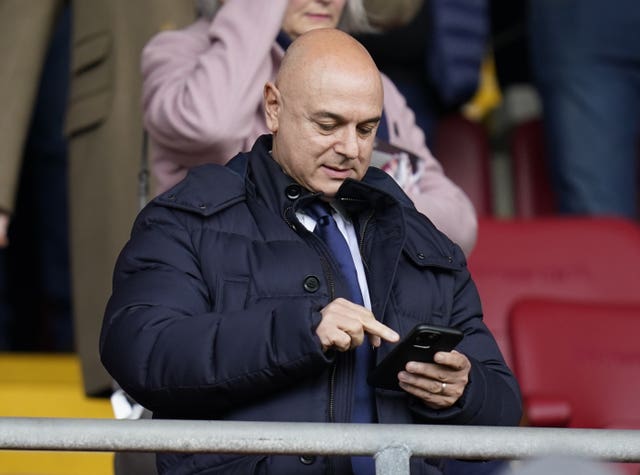 Tottenham chairman Daniel Levy was reported to have met with Bayern officials last week, but the clubs remain around £25million apart in their valuation.
Friday's bid was expected to be the final offer made by the Bundesliga champions and it remains to be seen whether or not they will continue their pursuit of Kane.
Kane has entered the final 12 months of his contract at Tottenham, but ignored the noise around his future to score four goals in a 5-1 friendly win over Shakhtar Donetsk on Sunday.
Dejan Kulusevski set up Kane's hat-trick strike and hailed the professionalism of his team-mate.
"He scored four goals, so very good," Kulusevski exclaimed.
"Nah, he's unbelievable. Honestly, his mentality, I can learn from him like everybody. He just goes out and performs day in day out.
"He's a true professional. I'm happy I helped him score today but of course we want him to stay and we'll do everything to make him stay."
Asked whether it would be beneficial to have Kane's future sorted sooner rather than later, Kulusevski admitted: "I think it would. On the other hand, you can only control what you can control. We players cannot do anything about it.
"We work our hardest, try to stay ready and the players that manage it, it's up to them."
This latest twist in the Kane saga increases the likelihood that the forward will feature in Sunday's Premier League opener at Brentford.
Before Tottenham make the trip across the capital, Postecoglou will take his squad to Barcelona on Tuesday for their final pre-season match this summer.
It will be another opportunity for Postecoglou to get his players attuned to his front-foot, progressive style of football and Kulusevski, after being accustomed to a pragmatic and counter-attacking approach under Antonio Conte previously, is relishing the attacking brand brought in.
"It is fun actually. I love it," he said.
"You have to be physically very good, I love that too. I'm enjoying having a lot of ball higher on the pitch, so I'm very grateful to have him (Postecoglou).
"I like him a lot. Also in half-time he was very angry because we stopped playing for five minutes and you cannot be like that.
"You have to play always. Just because you're tired, you (can't) let them have the ball. Things happen like that. So I like him a lot and I'm looking forward to improving under him."
Kulusevski did concede there will be an adjustment period for Tottenham under Postecoglou's new bold style.
He said: "Everything takes time in life, but the thing is we really, really have to believe in it. It's not enough if he's trying to make us believe. We all have to do it.
"But we're in a good way, I think. This was the first game when we played 90 minutes. We're happy, we ran a lot. It was quite good.
"Last season, maybe we scored one and then we tried to protect the result. So, of course we have to improve but second half was very, very good.
"He (Postecoglou) said we always have to play. Don't shoot away the ball, don't stop pressing, don't waste time. Always play, play the same and don't think about the score or the time. Just play and have fun.
"We all want to score much more. When we go 1-0, we want to score the second, not back off. So, we all we want to score much more."