Ange Postecoglou promised there is still more to come from his Tottenham side after Son Heung-min's hat-trick helped them demolish Burnley 5-2.
Coming off the disappointment of a midweek Carabao Cup defeat to Fulham, there was more bad news for Spurs when they fell behind to Lyle Foster's fourth-minute goal but Postecoglou was delighted with the way his side responded.
Son got the equaliser in the 16th minute and Spurs then punished mistakes at the back from Burnley as Cristian Romero and James Maddison put them in charge, before Son scored twice in four minutes just after the hour for his first hat-trick since September 17 last year.
Josh Brownhill's late consolation goal did nothing to dent a victory which gives Spurs 10 points from their first four league games under Postecoglou, with the mood around the club changed markedly following the Australian's arrival.
Asked if Son's performance showed how Spurs can cope without the departed Harry Kane, Postecoglou said: "No, it's not exactly why but it's one of the reasons. I've got a picture in my head about what I want the team to look like and I keep saying we're still at the beginning of it.
"We're still building and there's a lot to be done. It's about putting all the pieces together. There are some really good footballers in this club and they have the ability to play in the way this team needs to set up.
"Sonny, whether he's playing central or right, he's got all the characteristics to play the way we want to play."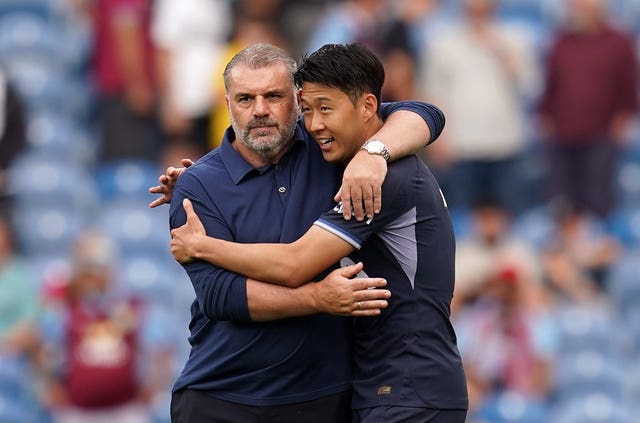 While Son's goals took the headlines, Maddison was also integral to their performance as he exploited every gap afforded him by Burnley, with his goal early in the second half heading off any threat of a comeback from the hosts.
"I thought today was a real testament to Sonny, Madders and Romero, the way they embraced that responsibility not just with words but with actions and not just on game day but on a daily basis," Postecoglou said.
"That's as encouraging for me as anything because as good as they are individually, they have that team spirit and that's important for me. Madders is so creative and today he showed how clinical he is in front of goal and his preparedness to work hard for the team is a great example."
Defeat leaves Burnley without a point after their opening three Premier League games, all at home with a total of 11 goals conceded to Manchester City, Aston Villa and Spurs combined.
But Vincent Kompany said it was not a reality check for him as he insisted he did not need one.
"I spent 11 years of my life in the Premier League and I have a pretty good understanding of what the level is," he said. "I don't think anyone is naive going into this division.
"We know it's a challenge and if you look at the total amount of points the promoted teams have got this season (one, from a combined 10 games) you realise that every game is going to be tough."
After a bright start, Burnley were guilty of giving the ball away too many times in their own final third, inviting pressure from Tottenham that soon told.
"It's not something I'm happy about but I always think it's easier to solve the defensive side than to solve a lack of chance in the team. I think we're creating chances at a very high level against Villa and City and then today against Tottenham.
"It's something we have to keep in our game. Obviously we need to become more solid but that's something you can work on and our team still has a lot of improvement in it."