Erik ten Hag admitted Manchester United's first-half performance in their 2-1 win at Sheffield United was not a fitting way to remember Sir Bobby Charlton.
United are mourning one of their greatest ever players following Charlton's death aged 86 on Saturday morning and goals from Scott McTominay and Diogo Dalot ensured they remembered him with victory.
But Ten Hag's side could not be much further away from the one that Charlton famously led to European Cup glory in 1968 as they were lacklustre against a team who have picked up just one point this season.
Defender Dalot was the unlikely hero as he saved their blushes with a 20-yard curler 13 minutes from time after Oli McBurnie's first-half penalty had cancelled out McTominay's opener.
Ten Hag said: "We are happy we did that, we have to pay attention and do it in a good way and first half I think it wasn't the standard for Sir Bobby Charlton and the second half was a bit better.
"But of course the news arrived and we are very sad and our thoughts are with his family and especially his wife Lady Norma, his children and his grandchildren.
"I heard some players got some inspiration from it and they wanted a win to mark it. It was an extra motivation, absolutely.
"But the first half was not a good game. We can talk long or we can talk short, it was a poor game from our side and you see it often after internationals, especially us with so many changes, the routines are not there. In the first half we allowed them to make it their game.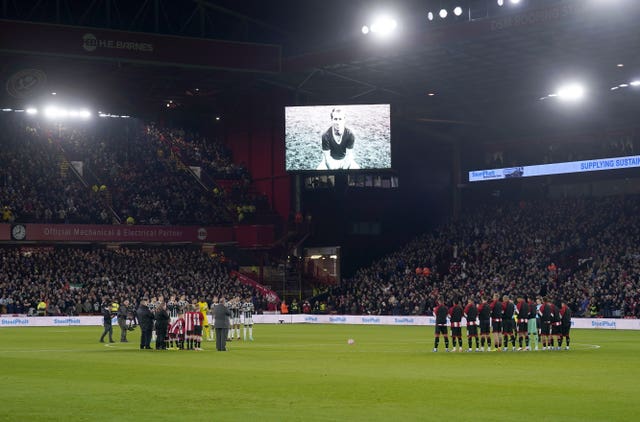 "We were too direct, no good organisation, second half we made some changes and you saw we got better, we were more composed and kept the ball.
"We controlled the game and created the chances and then finally we deserved the win and it was a beautiful goal."
Blades boss Paul Heckingbottom began his playing career at Old Trafford as a teenager and remembers Charlton fondly.
"He was there the day I signed as a 14-year-old," he said. "He is a man that represented everything that United wanted to be, certainly in terms of developing youth players and getting youth players into the first team.
"It is not only Manchester United that will miss him, English football and I think he was a football icon across the world as well, so there will be a lot of people remembering him, stories they have heard, games they have seen."
The Blades may feel they deserved something out of the game, especially on the back of a lively first-half performance, but they slipped to an eighth defeat from nine games and a long winter looks on the cards.
But Heckingbottom took the positives.
"In most games we have shown more than enough that we can compete," he added. "Lots of things that please me in that.
"We have suffered horrendously with injuries in the last 10 days, captain, vice-captain and a couple of other players. We are not going to sulk about it, it is an opportunity for others.
"We looked more of a threat tonight. There are lots of things tonight that we have to build on. It was close. What we had today was more of an all-round threat."