Marcus Rashford has never taken a first team penalty but has already let it be known that he wants to step up if England find themselves in a World Cup shootout.
Rashford is expected to drop back to the bench when the Three Lions take on Colombia on Tuesday in the last 16, but if the game gets into extra-time the Manchester United forward would surely be on the pitch at Spartak Stadium.
The 20-year-old claims never to have missed from the spot at youth level but has never been given the chance by club or country to test his mettle on the big stage.
Yet England's extensive preparations, which have been formally ongoing since March and have been a daily feature of their sessions at their Zelenogorsk base camp, have left him full of belief that he should be on Gareth Southgate's list of takers.
"I think he knows the players who are confident in those circumstances. I'd be willing to step forward," he said.
"Not everybody here is a penalty taker for their club. It's more if you feel comfortable taking one, which I do, that's the way you go about it. If you don't feel comfortable you have to be honest with yourself. That gives the team the best chance."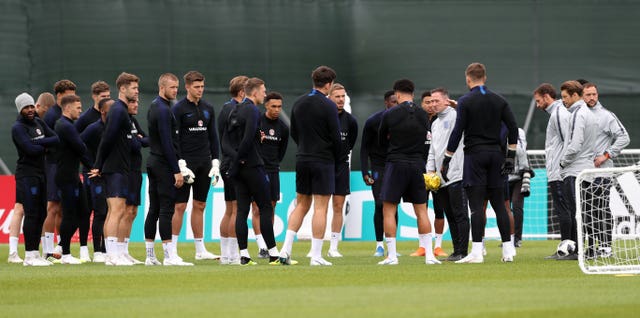 England are probably the only team still involved in Russia who have faced repeated questions on penalty kicks at every opportunity since they qualified for the knockouts.
That, of course, comes with the territory of six defeats in seven attempts. For a discipline some dismiss as pure luck, England's good fortune appears to have run dry too often.
Rashford, though, sees it as no different to any other aspect of the game – something to be worked at, refined and delivered under pressure.
"They (Colombia) might not be talking about them but they're definitely practising. I think it's stupid not to practise, especially at this stage of the tournament," he said.
"It's not chance. It's never chance. It's a skill and every skill takes time to learn it and to perfect it. It's a simple skill but it's about being able to perform it with pressure and everything around it. I know goalkeepers practise them a lot. They practise their skills to become perfect at it. It's definitely not chance if you might or might not score."
Despite his youth, Rashford would be forgiven for watching with some frustration as 19-year-old Frenchman Kylian Mbappe took Portugal apart on Saturday evening.
It is only a matter of months since he bid farewell to his own teenage years but while Mbappe is primed for superstar status, Rashford has too often had to settle for cameos with United and England in recent times.
Yet he insists he does not measure himself against his contemporaries and is content as long as his own game is advancing.
"Every player will tell you that it is always frustrating when you don't start," he said.
"(But) if I know I'm improving to the player I was a year ago or six months ago then that's good enough for me. It's not about competing against other people. Ultimately you're competing against yourself.
"At the level we're playing at here, being in an England camp or whether it is at the club, you have to really understand that and you can almost take bits from other people's game to try and bring your own game on.
"(United manager Jose Mourinho) has got 20-25 players in the squad and he has to pick the best team to play each game. He got it right most of the time last season but we need a bit extra to push for the title."