Rangers manager Michael Beale called for Scottish football to present itself better after his team's Viaplay Cup semi-final win over Aberdeen was marred by a poor Hampden pitch and a VAR failure.
Both managers admitted the game had suffered a blow to its image given the state of the pitch, which was very heavy during Celtic's 2-0 win over Kilmarnock in Saturday's first semi-final.
There was further embarrassment for the football authorities when VAR suffered a technical failure for about five minutes in extra-time during Rangers' 2-1 win.
Beale said: "I thought both semi-finals were excellent, four teams who really went for it.
"The two underdogs, if you like, really took it to the two favourites in both games but the pitch is in a really bad state for what is a showpiece game that players are dreaming of and hoping to get to. We need to have better than that.
"I just think we have an excellent game at the moment, there are lots of good players in our league and teams are really going for it. I've seen a difference in a way the coaching is in the league.
"Aberdeen played open football against us, a really good game, so I think we have a good product and we have to make sure we present it in the right way."
Dons manager Jim Goodwin added: "I'm not making excuses, I thought Rangers were slightly better than us, but the pitch for me and the players was a major disappointment.
"We were actually saying in the early part of the week that it would be nice to play on a good pitch at this time of the year because there hasn't been a great deal of football here in previous weeks or months.
"I was surprised. I know there was torrential rain on Saturday but a national stadium pitch should have a bit more resilience than that. I don't think it suited either team.
"The VAR thing is just a technical issue, I think that can happen at any stage in any country in the world, but the pitch is a talking point.
"We are trying to market our game and showcase it on live TV all over the world and want to be showing ourselves in a good light. I don't think a surface like that helps and it has an impact on the pace of the game.
"You are asking players before the game not to take risks because of the state of it. Every time the ball went back to the goalkeeper your heart was in your mouth because you are not sure which way the ball is going to bounce from one second to the next."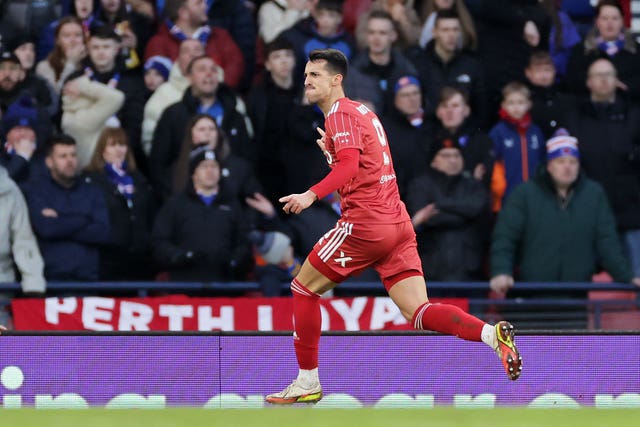 Beale told his team to calm down after they overcome some "anxiety" to set up a February 26 final against Celtic.
The Dons led at half-time after Matty Kennedy took advantage of Borna Barisic's slack play as the Croatian waited for an offside flag against Bojan Miovski, who subsequently converted the winger's cross.
Ryan Jack hit a deflected equaliser on the hour mark and substitute Kemar Roofe scored a winner early in extra-time – before going off with a shoulder injury – after Dons skipper Anthony Stewart was sent off for a wild challenge on Fashion Sakala in stoppage-time after 90 minutes.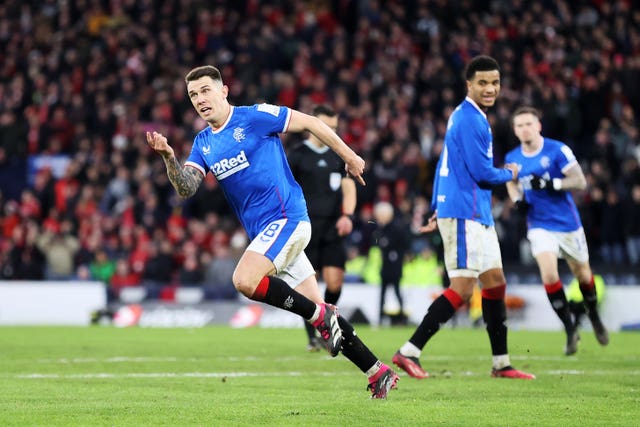 Beale said: "I don't want us to be so anxious. I don't know where the anxiety is coming from at times.
"We are a good football team, we win a lot of football matches. We have beaten a lot of good teams over the last two or three years.
"With the players in that dressing room I don't know why this anxiety is there, so we must stop that for certain because there were moments again when we were anxious.
"There were other moments where we were very good but when you are 1-0 down you don't always see it."
Goodwin admitted his skipper had let his team-mates down.
"My initial reaction was that he was in trouble," the Irishman said. "We have no arguments, I think the official has got it right.
"It was a poor decision from Anthony unfortunately. He probably should have stayed on his feet and jockeyed the player. He left his team-mates in a very difficult situation, going down to 10 men against a good Rangers team.
"But in fairness to the 10 guys that stayed on, they gave their all and stuck at it and right through extra-time we were very much in the game.
"It's an extremely difficult one to take but at the same time there is a sense of pride in terms of what the players have given us and I think the reaction of our supporters showed a real appreciation of what the players put in."